View all news
'Withdrawn' comes to a close with fish and chips event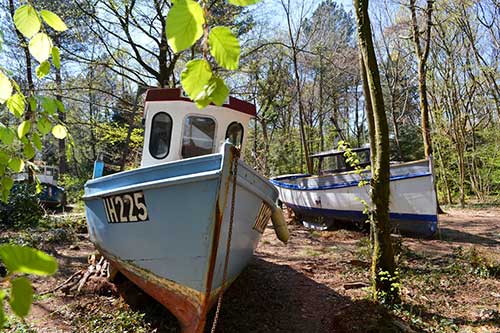 Press release issued: 11 August 2015
To mark the end of art installation 'Withdrawn' by Luke Jerram at Leigh Woods, academics from the University of Bristol's Cabot Institute will talk about how our seas are changing at a final event with fish and chips cooked by Michelin-starred chef Josh Eggleton on Sunday 23 August.
Found in Leigh Woods, a national nature reserve on the edge of Bristol, Withdrawn is an artwork, which came about thanks to the National Trust and their partners, the Forestry Commission. It has surprised and excited audiences as part of Bristol's year as European Green Capital since it opened in April.
The artwork is comprised of five abandoned fishing boats set within a tranquil glade in the woodland on the edge of the city. The boats have been host to a variety of well received events including cinema, theatre, talks, walks, storytelling and choral performances.
The final event of the exhibition will take place on Sunday 23 August from 5pm to 7pm for guests with pre-booked tickets [please note, the event is now sold-out]. Nicole Daw, Engagement Ranger for National Trust Leigh Woods explains what is involved: "This is going to be a brilliant event for visitors and for me, as I watch the events programme around Withdrawn draw to a close.
Visitors will enjoy a stimulating discussion between Luke Jerram and academics from the Cabot Institute before tucking into a fish and chip supper that Josh Eggleton will be cooking for us fresh on the day. Josh will then join the discussion to talk about the meal we will have all just eaten, and how he makes sure his fish is sustainably sourced. So we will all go away with full tummies and a lot to think about!"
Professor Rich Pancost, Director of the Cabot Institute, who will be joined by Professor Daniela Schmidt, said: "The sea provides food, medicine, energy, protection, jobs and identity, but we are polluting, warming and acidifying it. The vessels showcased in Withdrawn illustrate a lifestyle and a food source that may someday no longer exist. We hope people will join us as we explore in an inclusive and entertaining way these themes in the beautiful and unique setting of the boats and woodland."
Audience members are encouraged to bring along their own ideas and questions to share in the discussion. As well as the talk there will be a chance to chat and mingle informally with Luke and the rest of the panel whilst enjoying the supper.
Luke Jerram said: "I am so pleased at how well the events program has been received. This seems like such a brilliant way to finish it, with delicious food and the chance to really get people thinking about the deeper meaning of my work and where its title 'Withdrawn' came from. It is strange to think in just a few more weeks the boats will no longer be resting in the woods, but the great news is they all have new homes to go to. So you may well see them again in and around Bristol, as well as a bit further afield."
Withdrawn is open from 9am to 5pm until Sunday 6 September. Visitors are invited to walk, bus or cycle to the site in keeping with the environmental message of the project.
The project was commissioned by the National Trust, working in partnership with Arts Council England. It is one of six arts projects funded by the Arts Council England, Exceptional Fund, as part of Bristol's year as European Green Capital.
Further information
The Cabot Institute
The Cabot Institute carries out fundamental and responsive research on risks and uncertainties in a changing environment. It drives new research in the interconnected areas of climate change, natural hazards, water and food security, low carbon energy, and future cities. Its research fuses rigorous statistical and numerical modelling with a deep understanding of social, environmental and engineered systems – past, present and future. It seeks to engage wider society by listening to, exploring with, and challenging its stakeholders to develop a shared response to twenty first century challenges.
Luke Jerram
Luke Jerram is one of the most exciting artists working in the UK today. Luke is known worldwide for his street pianos installation Play Me I'm Yours, and the giant waterslide he installed down Park street in Bristol last year. His multidisciplinary practice involves the creation of sculptures, installations and live arts projects. Living in Bristol, UK and working internationally, Jerram has created a number of extraordinary art projects over the last 18 years which have excited and inspired people around the globe.