View all news
Car crash survivor becomes world's first tetraplegic Tough Mudder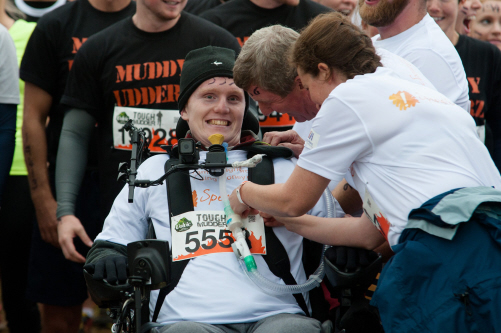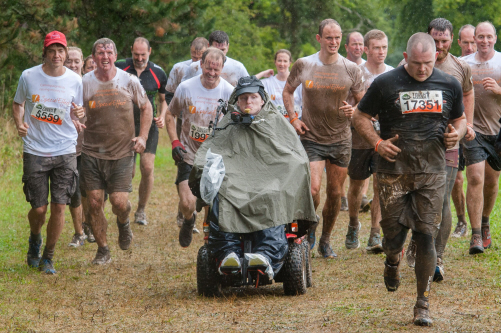 Press release issued: 24 August 2015
Student Rob Camm has become the world's first tetraplegic to complete a Tough Mudder challenge after finishing the gruelling 12-mile course in a wheelchair he controls with his chin.
The 21-year-old, who studies politics and philosophy at the University of Bristol, was left paralysed from the neck down and is reliant on a ventilator after a car crash two years ago.
He tackled the Tough Mudder, dubbed 'probably the toughest event on the planet' by organisers, in torrential rain alongside a team of friends and family members in the Cotswolds yesterday [23 August].
They've raised over £5,000 for SpecialEffect, a charity which has provided technology to help him adjust to life after the accident.
Rob, who lives with his family in Breadstone, Gloucestershire, said: "I wanted to do a Tough Mudder before the accident and still want to do it now. I've got a wheelchair that's capable of doing it, so I though why not? I'm happy that I've done it, but a bit tired now - but probably not as tired as all these guys who have been round with me."
While Rob wasn't able to conquer some of the obstacles, he successfully navigated bumpy and muddy terrains during the challenge.
John Fidoe, Vice President of Tough Mudder, who accompanied Rob on the course, described him as inspirational: "We were thrilled to have Rob join us this past weekend at Tough Mudder South West and watch him become the first tetraplegic in the world to complete a Tough Mudder course.
"His strength, determination and courage have inspired all of us at Tough Mudder and Mudders around the world."
Rob hopes his fundraising efforts will in turn help SpecialEffect to provide technology to even more disabled people.
It was while in Frenchay Hospital's Intensive Care Unit for 96 days, staring at the ceiling, that SpecialEffect was able to offer Rob some hope in the form of an eye gaze computer. It's controlled by blinking and eye movement and enabled him to reconnect with the world and do things for himself.
Rob, a keen rugby player who had just returned from a year abroad, was a passenger in a car that crashed in September 2013, just a week before he was due to start studying at York University.
Determined to live his life to the full, he decided to continue his studies closer to home at the University of Bristol where he's just passed his first year with a 2.1.
Rob added: "I'm enjoying my studies a lot. The University itself has been fantastic and my lecturers have been really supportive. It's good getting my life back to some extent."
To sponsor Rob and his teammates (Ian Camm, Simon Camm, Tomos Wyn-Jones, Rob Telford, Ian Telford, Liam Kearns, Chris Wright, Simon James and Helen James) in the Tough Mudder, please visit their JustGiving page.
You can read more about Rob's story and follow his progress on his Cammpaign4rob blog.