View all news
Entrepreneurs invited to Engine Shed for Pitch@Palace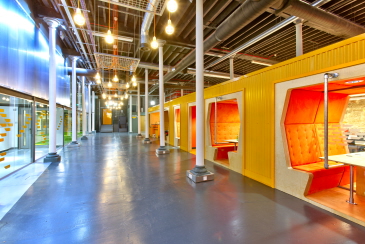 Press release issued: 20 August 2015
Tech start-ups have the chance to apply to showcase their businesses when the Pitch@Palace tour arrives in Bristol. The event, run by the Duke of York, sees entrepreneurs pitch their business in front of the royal enterprise champion.
But to get to the palace they need to win their place and companies in the South West are being invited to pitch at the Engine Shed, an enterprise hub run by the University of Bristol, on September 14.
The Roadshow event in Bristol is one of only three regional rounds held around the UK. The city was chosen as a destination due to its status as the country's only fast-growing, globally significant tech cluster.
It's run in collaboration with SETsquared, the partnership between the universities of Bath, Bristol, Exeter, Southampton and Surrey, which has worked with the Duke of York's Pitch@Palace initiative since its formation.
The 'venture pitch and selection' will give entrepreneurs and start-ups operating in the Internet of Things and Smart Cities sectors a chance to be selected to attend Pitch@Palace 4.0 in London, where potential outcomes include investment offers, promotion opportunities and new customers or partners.
Simon Bond, Innovation Director for SETsquared, said: "Pitch@Palace On Tour is a fantastic opportunity for entrepreneurs developing products and services for the Internet of Things and Smart Cities fields, and we know first-hand that there are many exciting new businesses in the region that would really benefit from this exposure.
"We've seen SETsquared members Fourth State Medicine, PixelPin, Neighbourly and Industrial Phycology all take part in previous years and had great results from the event. Holding a selection event in the region means we have a far better chance of showing off developments from Southern England in front of the 'A' list of investors, movers and shakers."
Three of the ventures selected in Bristol will be invited to attend Pitch@Palace 4.0 in London on 2 November and entrepreneurs don't need to be SETsquared members to apply.
The application deadline is Friday 28 August and entrepreneurs can apply via the Pitch@Palace website.
Further information
About SETsquared
SETsquared is a long-standing partnership between the universities of Bath, Bristol, Exeter, Southampton and Surrey which specialises in growing high-tech start-ups through its incubation programme and other business acceleration services. SETsquared provides mentoring, access to investors and corporate innovators and a wide range of industry experts through its network and training programmes.
Its business incubation programme is ranked by the University Business Incubator Index as the best in Europe and second in the world and over the last decade it has helped over 1,000 high-tech start-ups to develop and raise more than a £1bn of investment.
Independent research carried out by Warwick Economics estimates the economic impact of SETsquared member companies to be £3.8bn over this period, with the creation of 9,000 jobs and that these companies will go on to deliver a further £7.3bn of impact to the UK economy in the decade ahead.
About Engine Shed
Engine Shed is a collaboration between Bristol City Council, the University of Bristol and the West of England Local Enterprise Partnership at the heart of Temple Quarter Enterprise Zone.
Its mission is to stimulate long term economic growth by supporting business, inspiring young people to get involved and to showcase to the public and potential inward investors the exciting opportunities that exist here.
By uniquely co-locating a number of related entities and operating a central Business Lounge which brings together academics, entrepreneurs, business leaders and policy makers, in a high-profile, iconic building next to a mainline train station, the project is of global significance.
An independent Economic Impact Assessment in 2015 showed that Engine Shed had contributed £8m to the UK GVA in its first year of operation.