View all news
School of Physics and Oxford Instruments sign a Memorandum of Understanding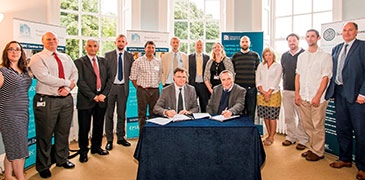 24 August 2015
The University's School of Physics has entered into a strategic relationship with Oxford Instruments, a leading provider of high-technology tools and systems for industry and research.
The relationship formalises the involvement of Oxford Instruments as a training partner and collaborator with the three EPSRC-funded Centres for Doctoral Training (CDTs) within the school: the Bristol Centre for Functional Nanomaterials, the Centre for Doctoral Training in Condensed Matter Physics and the Centre for Doctoral Training in Quantum Engineering.
Oxford Instruments has identified these areas as being essential to the development of cutting-edge commercial technology and will be investing time and expertise into training the next generation of scientists, who will implement these game-changing developments.
This agreement will allow all three CDTs – which between them will welcome at least 30 new PhD students per year for the next 5 years – to engage with Oxford Instruments in idea-generating workshops and specialist training, which will lead to the co-development of integrated research programmes.
Professor James Annett, Head of Physics at Bristol, commented: 'I believe this agreement will be the start of an important and fruitful collaboration, which will be of great benefit to Oxford Instruments, to the School of Physics, and especially to the current and future PhD students in our three EPSRC-supported Centres for Doctoral Training.'
For further details, please see the Oxford Instruments press release.