View all news
University of Bristol welcomes new Vice-Chancellor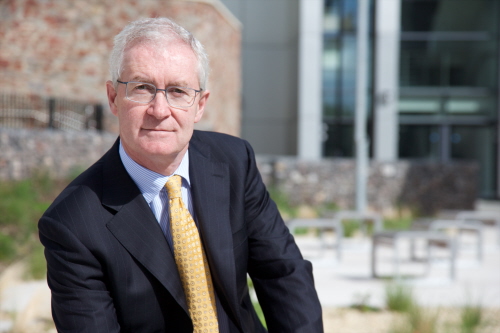 Press release issued: 2 September 2015
Professor Hugh Brady takes over as Vice-Chancellor and President of the University of Bristol today [2 September]. He becomes the University's 13th Vice-Chancellor, taking over from Professor Sir Eric Thomas who retired last month after 14 years as academic leader and chief executive of the world-leading university.
Professor Brady, who was previously Professor of Medicine and Healthcare Strategy and President of University College Dublin, will develop a new vision and strategy for the University of Bristol during his first few months in the role.
He has indicated that key areas of focus are the student experience, building research scale, the relationship between the University and the city/region, and internationalisation.
He said: "It is a huge privilege to join this great institution, and I look forward to working with staff, students, alumni, collaborators and friends to help the organisation take its next steps forward.
"The University of Bristol's reputation is already enviable, and I am interested to see how we can build on our current successes. I am particularly passionate about internationalisation, with the aims of addressing challenges facing society through working with scholars and collaborators across the world, and as a means of preparing our students for lives as global citizens.
"That work starts and depends upon having the right local partnerships in place, and hence I am interested both on building on the existing relationship with the city and region and expanding our networks across the globe."
He joins Bristol at a time when the University's global reputation for education, research and enterprise continues to rise, with its research being ranked 5th in the UK according to analysis of the Research Excellence Framework (REF) 2014.
It was ranked within the top 30 universities in the world in the QS World University rankings 2014 and 7th in the UK, and is one of the UK's most targeted universities by top employers.
The University is a major force in the economic, social and cultural life of Bristol and the region, and is also a significant player on the world stage. It has over 16,000 undergraduates and nearly 6,000 postgraduate students from more than 100 countries, and its research links span the globe.
Professor Brady was appointed President and Chief Officer of University College Dublin in 2004 and led UCD through a strategic and physical transformation that enabled it to increase its market share of the most able students, grow its international student numbers, boost its research income and performance, expand its international partnerships, and increase its income from philanthropy and other non-government sources.
During his academic career, Professor Brady has held fellowship and academic positions at globally prestigious institutions, including Harvard University and the University of Toronto. He is an international authority on the pathogenesis of diabetic kidney disease.