View all news
Providing HIV treatment shown to be cost-saving for companies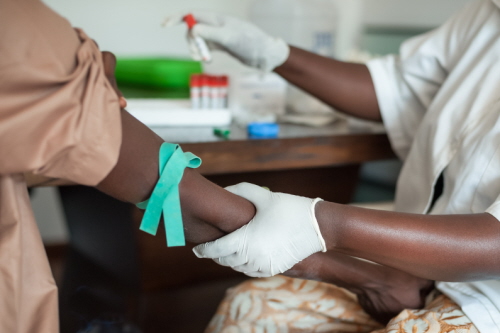 Press release issued: 1 September 2015
Offering treatment programmes for staff infected with HIV will save companies money in the long run, according to new research looking at the impact such a programme has had on the South African mining industry.
In countries with a high prevalence of HIV, provision of antiretroviral therapy (ART) programmes in the workplace can be cost saving for companies due to reductions in healthcare costs, absence from work and staff turnover.
ART suppresses the HIV virus and stops the progression of HIV disease. It has led to huge reductions in rates of death and suffering, particularly in early stages of the disease.
The research, by Peter Vickerman from the University of Bristol and Gesine Meyer-Rath from Boston University and the University of the Witwatersrand, is published today [1 September] in PLOS Medicine.
The analysis was the result of a long-standing collaboration with the London School of Hygiene and Tropical Medicine and the Aurum Institute in South Africa.
In their study, authors developed a mathematical model to evaluate the past and future impact and costs to the employer of an antiretroviral treatment program provided since 2002 by a coal mining company operating at a number of South African mines.
The company was one of the first to provide services for HIV-infected employees in a poor country, and provided HIV therapy years before it was available in the government sector. By the end of 2010, 1,149 out of 9,252 employees had tested HIV positive in confirmatory tests and had been enrolled in the company's wellness programme.
The authors' model estimated that, as ART coverage increased from 10 per cent to 97 per cent of eligible employees, increases in the survival and retention of HIV-positive employees and reductions in absenteeism and benefit payments would lead to overall cost savings compared to a scenario of no antiretroviral treatment provision.
Specifically, the annual cost of HIV to the company would decrease by five per cent and the average cost per HIV positive employee would decrease by 14 per cent by 2022.
Professor Peter Vickerman, from the School of Social and Community Medicine at the University of Bristol, said: "It is rare that a health care intervention saves money, with our analysis suggesting that supplying comprehensive HIV care to company employees being one of those rare examples. Our analysis therefore suggests that all businesses should supply for the HIV health needs of their employees to minimise the costs of HIV to their company."
Dr Gesine Meyer-Rath added: "Beyond making good business sense, a company-level HIV care programme including ART could go a long way towards improving the strained labour relations in the South African mining sector, especially when improved access to healthcare extends to the entire community. It is crucial that strategies such as those studied here are replicated in other companies in similar settings."
Although the authors acknowledged some limitations, for example that the analysis did not examine the impact of HIV prevention policies on the miners or their families, the changes in costs were robust and translated into average savings of nearly $1 million US dollars per year for the South African mining company.
Importantly, they found that even in a country with very low HIV prevalence, ART would still save companies money compared to no ART provision.
These savings mainly accrue from reductions in benefit payments for death and retirement due to ill-health and in employee healthcare costs.
Paper
'The Impact of Company-Level ART Provision to a Mining Workforce in South Africa: A Cost–Benefit Analysis' [open access] by Meyer-Rath G, Pienaar J, Brink B, van Zyl A, Muirhead D, Grant A, Vickerman, P. (2015) in PLOS Medicine.
Further information
Funding for this study was obtained through a grant by GlaxoSmithKline to the Aurum Institute and direct funding from Anglo American. The funders had no role in study design, data collection and analysis, decision to publish, or preparation of the manuscript.