View all news
Planting for pollinators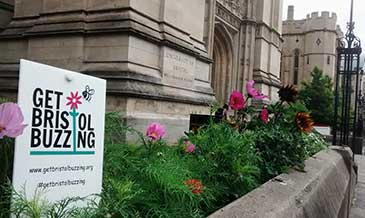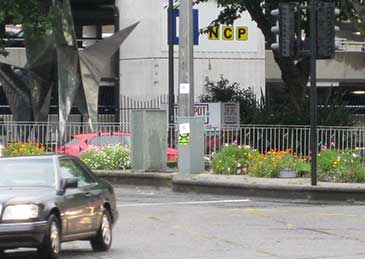 10 August 2015
Pollinator-friendly planters are being installed in locations across Bristol, including on the University campus, as part of the 'Get Bristol Buzzing' initiative to encourage bees, butterflies and other pollinators in the city.
Seven planters have been located around the University – five outside the Wills Memorial Building and two outside the Indoor Sports Centre on Tyndall Avenue. The mini-meadows, grown and distributed by Bristol City Council to seven locations in total, have been planted with a variety of nectar-rich annuals including cosmos, cornflowers, poppies and sunflowers.
Get Bristol Buzzing links local activities related to pollinator conservation as part of Bristol 2015 European Green Capital. Partners include Avon Wildlife Trust, Bristol Friends of the Earth, Buglife, South Gloucestershire Council and the University of the West of England, as well as the University of Bristol and Bristol City Council.
Kevin Stuckey, Horticultural Manager for the University's External Estate, who worked with Bristol City Council colleagues to install the planters on campus, said: 'They've added a splash of colour and life to the city's busy streets and it's not just pollinators that are attracted to them – the planters, and the interpretation boards, have also drawn a lot of interest from passers-by.'
Dr Katherine Baldock, NERC Knowledge Exchange Fellow in the School of Biological Sciences, said: 'The planters are an excellent means of providing important food for pollinating insects in built-up urban areas. They contain species that provide plenty of pollen and nectar for pollinators and they look fantastic as well. They're a great way to raise awareness among members of the public about what we can do to help pollinators whose habitats are under threat.'
Further information
The University of Bristol is proud to be part of a city-wide initiative to make Bristol a world leader in sustainability as part of its designation as European Green Capital 2015. Contributing to the collective efforts of 800+ organisations, the University is hosting a series of events, seminars and public debates that build on its long-standing ambition to generate knowledge that will shape a future we all want to live in. From research that tackles the challenges of environmental uncertainty, through to voluntary community projects that see students engaging with local residents, the University has pledged its commitment to the lasting legacy of #Bristol2015.
For further details, and to join the conversation, visit us @BristolUni and http://www.bristol.ac.uk/green-capital