View all news
£2 million boost for heart research in Bristol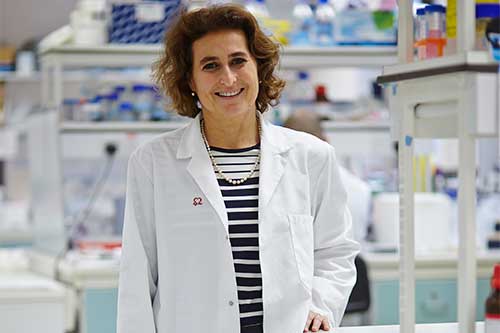 Press release issued: 7 August 2015
New tests and therapies to improve the treatment of people with coronary heart disease requiring bypass surgery are being developed at the University of Bristol thanks to new research funding from the British Heart Foundation (BHF). The charity has announced grants of £2 million as part of the appointment of Costanza Emanueli as BHF Professor of Cardiovascular Science.
Coronary heart disease, which can lead to a heart attack, is responsible for over 73,000 deaths a year in the UK and almost 400 in the City of Bristol alone. More than 2.3 million people in the UK are living with coronary heart disease (2).
People with coronary heart disease can have reduced blood supply to the heart muscle. One treatment is surgery to bypass the narrowed section of a coronary artery to improve that supply. Around 17,000 coronary bypass surgery procedures are carried out each year in the UK (3). While effective, this does not address existing damage to the smaller blood vessels in the heart.
Professor Emanueli in the University's School of Clinical Sciences is leading research into growing new small blood vessels in people with heart disease. This treatment would complement bypass surgery and could prove particularly important for people with diabetes, which causes additional damage to the small blood vessels and can worsen the outcome of surgery. The research centres on harnessing tiny gene regulators, called microRNAs, to trigger the growth of these new small blood vessels. Professor Emanueli is also studying the natural vehicles, called extracellular vesicles, used to transport these microRNAs between different cells within the body.
Working with fellow Bristol heart surgeons, including BHF Professor Gianni Angelini, she is also developing new tests which could help surgeons determine the risk of complications after bypass surgery allowing them to take preventative action.
Professor Emanueli is studying whether certain types of microRNA are more common in people who suffer complications after surgery. It might then be possible to develop blood tests allowing us to measure levels of microRNAs inside the vesicles transporting them throughout the body. If these tests showed that a patient was at high risk of suffering complications action could then be taken to reduce the risk of problems occurring.
Michael O'Neill, 66, recently needed urgent surgery at the Bristol Heart Institute to bypass a blocked artery, he said: "It was worrying to know that I needed surgery but, thanks to advances in medical research and the innovate procedure that the Bristol surgical team used, my operation went well and I made a full recovery. However, I do know that not everyone is so fortunate. It's great to know that the BHF are funding research which could help to make operations like mine even safer and more effective."
A BHF Professorship is the most prestigious personal funding that the British Heart Foundation awards. The BHF Professors at universities across the UK are leading cardiovascular researchers driving our understanding of disease and pioneering new tests and treatments (4).
Upon receiving the funding, BHF Professor Costanza Emanueli said: "At the moment our research is happening in the laboratory and at the level of observational prospective clinical studies developed in the context of cardiovascular surgeries, but, thanks to this new funding from the BHF, we will be able to take our findings closer and closer to the point where they could benefit heart patients.
"Bypass surgery is a very safe and effective procedure but, from working with my surgical colleagues in Bristol, I am all too aware of its limitations. Through my research, I hope to make the operation even safer and have an even more positive impact on the person undergoing the surgery. Moreover, novel approaches based on microRNAs and extracellular vesicles can go hand in hand with surgery to improve the therapeutic options for patients suffering from ischaemic heart disease."
Professor Jeremy Pearson, Associate Medical Director at the BHF, which is providing the new funding, said:"We're dedicated to funding high quality research which will ultimately make the difference for people with heart and circulatory disease. We can only do this thanks to the generosity of the public whose support has already helped saved countless lives.
"Professor Emanueli is determined to take her breakthroughs into the clinical practice where she can hope to help patients. This new funding will help make that possible and we look forward to her life saving progress."
Professor Emanueli is embedded in national and international research networks, including the BHF Centres of Regenerative Medicine and a Leducq transatlantic network focussing at the study of vascular microRNAs (MIRVAD) and she holds an honorary professorial appointment at Imperial College London. Moreover, she is part of the Bristol NIHR biomedical research unit in cardiovascular medicine, which offers a great platform for translational and clinical research.
Further information
British Heart Foundation (BHF) grants awarded:
CH/15/1 BHF Chair of Cardiovascular Science (10 years), £1,231,266
BHF Professor Costanza Emanueli
RG/15/5 "MicroRNAs in ischaemic heart disease and diabetes mellitus: from cardiac surgery to basic science (and back?)" (5 years), £806,028m
BHF Professor Costanza Emanueli and BHF Prof Gianni Angelini University of Bristol
2 and 3) Mortality and prevalence statistics
4) More information about BHF Professors: https://www.bhf.org.uk/research/our-top-professors and https://www.bhf.org.uk/research/information-for-researchers/what-we-fund/personal-chairs
About the British Heart Foundation (BHF)
Coronary heart disease is the UK's single biggest killer. For over 50 years we've pioneered research that's transformed the lives of people living with heart and circulatory conditions. Our work has been central to the discoveries of vital treatments that are changing the fight against heart disease. But so many people still need our help. From babies born with life-threatening heart problems to the many Mums, Dads and Grandparents who survive a heart attack and endure the daily battles of heart failure. Every pound raised, minute of your time and donation to our shops will help make a difference to people's lives. For more information, visit bhf.org.uk.