View all news
Dr Christopher Holmes, 1953-2015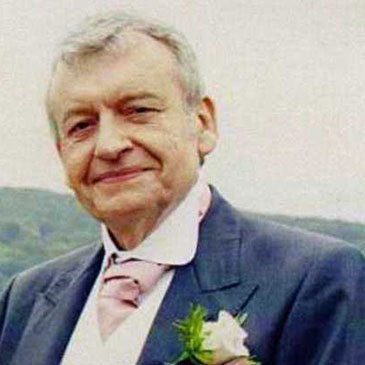 4 August 2015
Dr Christopher Holmes, a senior lecturer and researcher in the Department of Obstetrics and Gynaecology from 1984 to 2007, died recently. Professor Chris Paraskeva, former PhD student Dr Jim Houlihan, and other friends and colleagues offer their tributes.
Christopher Harold Holmes was born in Accrington on 19 April 1953. He studied for his undergraduate degree at the University of East Anglia and his PhD at the University of Nottingham, after which he was a postdoctoral research scientist at the prestigious Cancer Research Campaign Laboratories in Nottingham under the directorship of Professor Robert Baldwin.
With Professor Baldwin, Chris published several key papers developing novel monoclonal antibodies as probes for normal and malignant hepatocytes leading to important discoveries in both hepatocyte differentiation and carcinogenesis. Chris's experience and success in developing monoclonal antibodies early in his career gave him the insight and drive to develop his later work in translational cancer research and enterprise.
In 1984 Chris moved to the Department of Obstetrics and Gynaecology at Bristol, where he set up his own independent laboratory and made an impact in a number of important research areas in the following years and was very well respected both nationally and internationally. Chris was also involved in undergraduate and MSc teaching, where his enthusiasm, passion and expertise, not only in the sciences but in relevant translational research, inspired the students, with enviably excellent student feedback.
Several of his Bristol and overseas colleagues and friends, on hearing of his death, were quick to warmly pay tribute to Chris.
Professor Andres Lopez-Bernal commented: 'My memory of Chris Holmes is that he was a very well-respected immunologist known outside Bristol for his contributions in reproductive biology, especially the role of the complement system in the placenta and foetal tissues and in male fertility. He was a man of very high scientific standards, generous to those who sought his help and absolutely dedicated to his work.'
Professor David Cahill remembers: 'Chris examined the immunological aspects of placental development and miscarriage. With the passage of time he broadened his work to include sexual health and urethritis. Over time, he built up a cohesive team of individuals in his laboratory, including Jim Houlihan, Shane Wainwright and Karen Simpson. He was an excellent colleague, and in meetings and in presentations had the skill of being able to discern humbug but share that discernment without hurt.'
Chris was also a great mentor for PhD students and gave them a first-class opportunity to excel both as a PhD student and in subsequent postdoctoral research in his laboratory, as described by his first PhD student Jim Houlihan:
'Chris gave me the opportunity to do my PhD in his lab followed by an industry-funded postdoc, quite unusual in the early '90s. An enquiring perspicacity was interwoven with an often self-deprecating, dry humour. While a true perfectionist, Chris's hallmark was his ability to listen, with sincerity. Although ready to robustly challenge from several angles, Chris drew out the positives in apparently negative situations - eg in seemingly "failed" experiments!
'We published several papers. Chris transformed my writing style and I feel some of that quintessential "Holmesness" has carried through my career, mainly in the Intellectual Property Office (Patent Office) and government – for example in my policy papers, press releases, draft ministerial speeches, and tribunal decisions. I feel very fortunate to have been Chris's first doctoral student. However, this is but a small fraction of what he gave me as a cherished, very supportive great friend over the last 20 years since leaving his lab. Chris was one of life's truly unique characters who will be sorely missed, but undoubtedly will have enhanced the lives of those he leaves behind.'
Dr Graham Flannery, whom Chris had known for 37 years from when they were both postdocs in Nottingham, and who has since spent three sabbaticals working in Chris's lab in Bristol, wrote from Australia: 'Chris was a colleague, a collaborator, a mentor and a scientist of the utmost originality and integrity. He was modest, a family man, a scholar, a thinker and a warm, humorous and generous fellow. And I'm proud to say: he was my friend.'
The many messages received from colleagues worldwide since the news of his death all mirror the words of his colleague Graham Flannery and other colleagues above.
Chris left the University as Senior Lecturer in Obstetrics and Gynaecology in January 2007, when he continued his career as a scientific consultant both nationally and internationally. He continued his interest in translational research, and in particular in developing new and better diagnostic tools for cervical cancer – something Chris spoke of with great passion. His scientific opinions and expertise were always sought after, for example reviewing grants for prestigious government and grant-awarding organisations.
Chris was very proud of and inspired by his Accrington roots and spoke fondly of his life in Accrington, and his close-knit family, especially his brother Jerry. He was a loyal fan of the famous Accrington Stanley FC.
Chris Paraskeva, a colleague and very close friend, first met Chris in 1984 when they both came to Bristol. He commented: 'What I loved about Chris Holmes was that his upbringing gave him a non-materialistic edge on life, and an appreciation of true values and what was really important. He was a truly honourable and remarkable man, a loyal and trusted friend. He had very high standards both at work and in his personal life and inspired others to be the same. Chris was well liked, respected and loved by all, young and old.'
Chris had many interests and pleasures. He was famous for his love of reading, and of nature, whether it was walking through bluebell fields, his roses, or more recently his herbal garden. Of late he developed a new love and passion, which he protected jealously: his famous wood burner. On a winter evening Chris would prepare the log fire and make his house in Sunny-side warm and inviting.
Chris's greatest pleasure came from his family: Sheila his wife, daughter Corinne and son Peter. He was quietly very proud of Corinne and Peter, not only for their academic achievements but more importantly for the wonderful children that they were and the great adults that they have become, no doubt in part due to Chris and Sheila's special home environment, a mixture of Northern and Southern upbringing.
Chris had a devoted, loving and loyal wife in Sheila, whom he loved dearly, and who was a great support for Chris over the last few very difficult months; indeed, they were true soulmates throughout their marriage.
Chris was special. He will be truly missed but we will always remember Chris with great joy and happiness. We were all very privileged and glad that he could be part of our lives.