View all news
Novel scheme delivers 5,000 books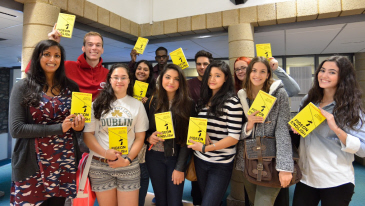 Press release issued: 22 September 2014
University of Bristol students will be immersed in the horrifying, tender and humorous world of Pigeon English this September, as 5,000 free books are given away in The Big Read.
Every new first year student will be given a copy of Pigeon English, Stephen Kelman's debut novel, as part of the Man Booker Prize Foundation's Universities Initiative. The novel explores London's gang culture through the eyes of school boy and recent immigrant Harri Okupu, an eleven-year-old Ghanaian.
Pigeon English tackles many issues facing Britain's urban youth and is inspired by real life events, such as the killing of 10-year-old Damilola Taylor in 2000, as Harri and his friend attempt to solve the murder of a young boy on their estate.
The Big Read initiative is part of an international scheme involving a select group of universities, which encourages all first year students to engage with contemporary fiction and share common experiences in the early stages of university life.
A series of free events will run across the University campus for eight weeks. Students and academics will share their reading experiences, learn more about the author, and debate issues that affect contemporary Britain raised by the novel. Societies and halls of residence will also arrange student-led reading and discussion groups.
Organised events will include a debate on the theme of 'Why should scientists read literature', and a staged reading, panel discussion, and Q&A with the director and cast of Bristol Old Vic's production of Pigeon English,on Friday 17 October at 6pm in 3-5 Woodland Road.
The events will culminate with a visit from author Stephen Kelman on 13 November which will be open to all students and staff, who can book their tickets here. The visit will feature a reading by Stephen followed by a Q&A session.
Dr Madhu Krishnan, who has organised the initiative at Bristol University, said: "The Man Booker Prize Foundation's Universities Initiative has played a central role in re-invigorating the role of public shared reading in the UK and the US. By joining the select group of universities who work with the initiative the University of Bristol will not just be engaging in a campus-wide conversation, but will take part in a wider, global discussion of the crucial role of literature in today's society."