View all news
Celebrating age with high-tech memories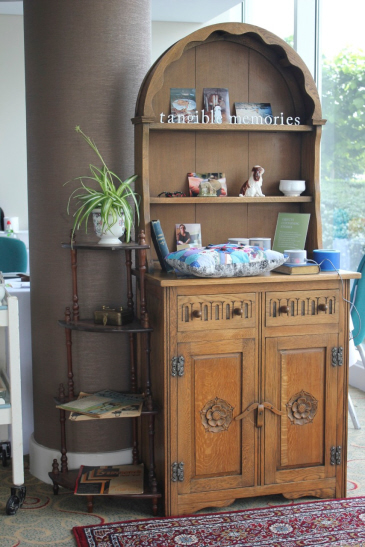 Press release issued: 24 September 2014
Visitors will be invited to experience the care homes of the future this weekend as part of the Celebrating Age Festival 2014.
A research team led by the University of Bristol has been working to improve the quality of life for residents in care homes by using technology to help capture and share their life stories.
A special installation as part of the Tangible Memories project will be on display at the Celebrating Age Festival 2014, which is organised by Age UK Bristol and gets underway this Saturday [27 September] at M Shed.
It will showcase novel technologies that have been co-designed with older adults living in care settings across the city.
The project seeks to find creative ways to digitally attach stories to objects that are personally meaningful to participants so that they can remind themselves of important memories and share them with others if they choose.
For example, if someone picks up an ornament it will automatically start telling a story linked to it thanks to small sensors and speakers embedded into the object.
In addition to helping project participants create memory objects they can keep and share, the project will also work to develop resources for use in other care homes.
Dr Helen Manchester, from the Graduate School of Education, is leading the Tangible Memories project and said: "There is increasing concern about our ability as a society to cope with the demands of ageing populations in terms of the provision of care. Recent media coverage has raised issues around the poor standard of care available in many care home settings and the increasing pressure on these services.
"In this context we relish this opportunity to share our research and design work with the public. Our project has been collaborating with older adults to co-design digital technologies for storytelling in order to enhance the social and cultural lives of those living and working in care homes. We are keen to explore with others how we can continue to develop and improve our work further."
The theme for this year's Celebrating Age Festival is 'Bristol Ageing Better'. Local groups and organisations will be putting on exciting and interactive activities for older people until Sunday 12 October.
The launch on Saturday runs from 10am to 4pm at M Shed. It's free and open to everyone.