View all news
Bristol student wins Student in a Million Inner Strength award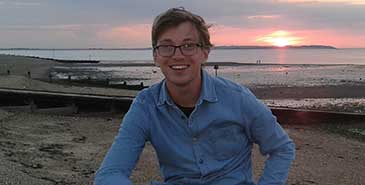 Press release issued: 24 September 2014
A University of Bristol student from the Department of Mechanical Engineering has won the Student in a Million 2014 Inner Strength award for showing incredible resolve to continue with his studies despite battling a terminal brain tumour.
Tom O'Sullivan's illness meant he was unable to attend the prize-giving event held on Monday 1 September, but his dad, John, and sister, Ellen, attended the ceremony. Ellen collected Tom's award on his behalf and Tom was able to receive the prize at home before he passed away on Thursday 11 September.
Tom excelled in his A-level and university studies in the face of the most severe medical challenges. Tom was found to have a brain tumour at the age of 18. At the age of 19 he was told his tumour was cancerous and terminal. As well as the cancer, Tom suffered from severe hearing impairment, which meant he needed a note-taker and special hearing system during lectures.
Tom's cancer was diagnosed in March 2010, just before his final A-level exams. Despite two brain operations during the revision period, Tom showed amazing determination to take all his exams and he achieved outstanding A-level grades:
A* (physics), A* (chemistry) and A (maths). These grades enabled Tom to gain a place in Mechanical Engineering at Bristol in October 2010.
In November 2010, just after starting at Bristol, Tom developed double vision due to the tumour. To cope with the double vision Tom wore glasses with shaded glass to block the sight from his right eye. In January 2011, Tom commenced six weeks of radiotherapy at Royal Marsden Hospital in London. Despite many side effects, he attempted to resume his studies at Bristol in April 2011.
In May 2011, Tom was advised that his cancer was terminal and he left the university, not expecting to return. However, following a year out for chemotherapy treatment, in October 2012 Tom returned to Bristol to resume his studies. Tom passed his first year despite further progression of the tumour.
In October 2013, at the start of his second year, Tom started a new regime of chemotherapy. He had six cycles of intensive treatment throughout his second year of studies with serious side-effects. Despite the severity of the symptoms, of the chemo treatment and tumour, Tom battled through with incredible determination to get through the second year.
Stuart Burgess, Professor of Engineering Design and Senior Tutor in the Department of Mechanical Engineering, said: "Tom's academic work at Bristol was outstanding. During his second year, Tom was awarded a first class mark for the design of the front suspension of a car. This design was one of the very best out of 152 students on the course, despite Tom undergoing the most debilitating chemotherapy.
"Tom's exceptional bravery has motivated many other students to be more mature and appreciative of their time at university. Tom's incredible determination has been a source of inspiration to students and staff alike and it was a great privilege to teach him."
John O'Sullivan, Tom's father, said: "Being a student at Bristol meant the world to Tom, he loved his time there. It made him normal, part of a peer group, and it allowed him to flourish and to meet some wonderful young people who became great friends at a difficult time. He also enjoyed wonderful support from within the Faculty of Engineering."
The Student in a Million 2014 awards event was held in Brighton earlier this month [Monday 1 September].