View all news
What does it really mean to be InTouch?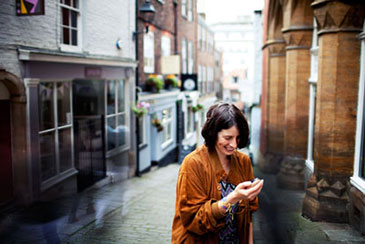 Press release issued: 19 September 2014
A new tactile device created by award-winning Bristol-based design consultancy, Kinneir Dufort and the University of Bristol is exploring what it means to feel connected again in this disconnected, screen-focused world.
The InTouch project, initially aimed at enabling families separated by long distance to engage through storytelling, has become an exploration into the bigger question: What is 'real' connection, and more importantly how can we get back what we all need, to feel next to those people we love?
Dr Victoria Bates, Lecturer in Modern History at the University of Bristol said: "Communication improves our general wellbeing but often does not feel 'real' at a distance. Instead of bringing us closer, screens are putting a visual barrier between people and pushing us all further apart. As changing lifestyles make us spend more time apart than ever before, we need a communication technology that puts people first."
As part of the REACT Object Sandbox, the team of experts asked how the Internet of Things could help with our wellbeing by taking communication away from 'screen' and onto the 'object'.
Sarah Dickens, Industrial Designer Kinneir Dufort, said: "It is not the object itself that holds emotional value, but what it comes to represent. We want to create something that represents the most important thing to its user, the person they use the object to connect with. That is a very big task and one we are relishing."
Using the latest haptic technologies, the same as those inside the recently launched Apple Watch, InTouch are exploring new ways to allow us all to reach out and touch those who mean the most to us at that very moment in time when we need each other the most.
InTouch have created paired, soft skinned, tactile devices that use linear resonant actuators to allow the user to have a real tactile experience.
Dr Kirsten Cater, Senior Lecturer in Human Computer Interaction at the University of Bristol said: "Technology has to be able to makes us feel real connectivity. We are at an interesting point where we have a vast array of technologies at our finger tips which we can throw at interaction challenges, but just because we can doesn't mean we should. So it raises the question: exactly which current and future technologies will truly enhance our connected experiences for the twenty-first century to give us the evocative feeling we are missing?"
InTouch aims to find a way to bring people back together, to move away from the fixed gaze at the screen and allow people to once again be able to reach out and connect.