View all news
Bristol medic elected to second term of BMA student committee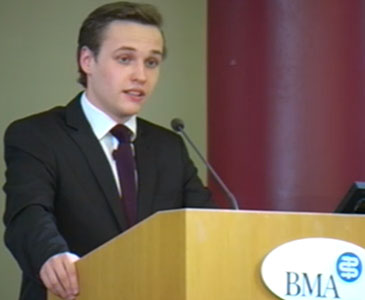 23 September 2014
Harrison Carter, a third-year Bristol medical student, has been re-elected co-chair of the British Medical Association Medical Student Committee.
The Committee represents over 27, 000 medical students to UK Government and other policy stakeholders on issues concerning the finance, education and welfare of medical students across the UK. Being elected to a second term is a rare occurrence.
One important issue the Committee will tackle is widening participation, something for which Carter already has a track record: he has served on the Selecting for Excellence Executive Group, which reports to the Minister for the NHS, Dr Dan Poulter, and is tasked with providing a solution to the access problem. He also worked as the Director of Policy and Advocacy for Medsin-UK, a global health student network, from 2012-2013.
Carter has a strong interest in basic science research and was awarded the UK Intercalated Degree Award by Kidney Research UK in 2013.
Bristol medical students have had a strong showing on the BMA Medical Student Committee: besides Carter, recent chairs have included Nick Deakin (MB ChB 2013) and Marion Matheson (MB ChB 2014). In addition, the BMA UK Junior Doctors Committee was led by Dr Ben Molyneux (MB ChB 2008) from 2012 to 2013.