View all news
Have fun with technology and it's free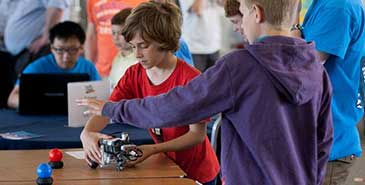 Press release issued: 29 September 2014
From hacking hardware to programming software, students from the University of Bristol's Merchant Venturers School of Engineering will be on hand to show young people how to have more fun with technology at a DigiMakers event this Saturday, 4 October.
The event, organised by the University's Faculty of Engineering together with BCS, the Chartered Institute for IT, and At-Bristol, hopes to inspire the next generation of technical innovators and engineers through an introduction to 'making' in the digital world.
Over 1,500 people from around the region have attended previous events and thanks to support from companies including Imagination Technologies, Renishaw, Nvidia, Toshiba, the Society of Merchant Venturers, Sitec Group via the Medlock Charitable Trust and alumni support, DigiMakers will be running for a second year.
People attending the event will have the change to take part in hands-on workshops and see some of the cutting-edge technology used by companies. The event, for young people, parents and teachers, is aimed at anyone from beginner to intermediate level.
In the past, workshops have used Raspberry Pi, Arduino, Lego Mindstorms, game building, app building and programming languages like Scratch, Python and Ruby on Rails.
With the new national curriculum changes, DigiMakers enables educators to pick-up ideas for the classroom, find out about new technology or just get some advice and an increasing number of teachers have attended previous events.
Workshops on offer at the event include:
Play an eight-bit band developed by University student, Joe Brown;
Robot Academy will be on hand to demonstrate how fantastic robots can be created;
Using Python to modify Minecraft;
Arduino Electronics for all skill levels;
Game creation with Unity;
Turtle Geometry the Python Way;
Dance off with Lego Mindstorm;
Make a BrushBot;
Introduction to programming with Python;
Rasperry Pi drop-in centre for people who need help getting started with their Raspberry Pi.
Caroline Higgins, Outreach Manager for the University's Merchant Venturers School of Engineering, said: ''Our aim is to make electronics and computing fun and accessible to everyone. The curriculum changes in computing has raised the profile of the subject areas but there is still an awful lot of work to be done, if we are going to tackle the serious skill shortage the UK is facing.''
Mike Bartley, Chair of BCS and LEP High Tech Sector Group, said: "For far too long computing has been equated with IT which turns a lot of children away. These events at At-Bristol encourage under-18s to get creative with computers.
"The region has a huge number of local companies crying out for these skills and they pay good salaries. I hope this event can whet the appetite and encourage local children into the industry."
DigiMakers will be held at At-Bristol, Anchor Road, Bristol BS1 5DB on Saturday 4 October 2014 from 10.30 am to 4.30 pm.
The free event, which will NOT include access to the exhibits at At-Bristol, is aimed at anyone from beginner to intermediate level. To register, go to Eventbrite(search for "Digimakers October 2014"). Preferred workshops can be selected once registered.
Further information
About BCS - The Chartered Institute for IT
BCS, The Chartered Institute for IT, is to enable the information society. We promote wider social and economic progress through the advancement of information technology science and practice.

We bring together industry, academics, practitioners and government to share knowledge, promote new thinking, influence the development of computing education, shape public policy and inform the public.