View all news
Over 100 researchers light up city science on Bristol Bright Night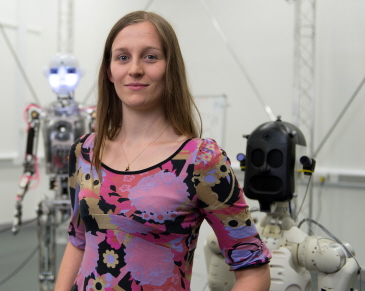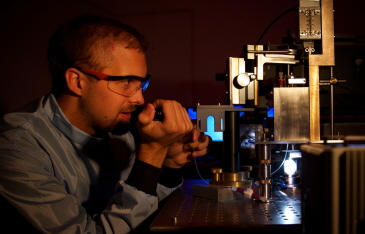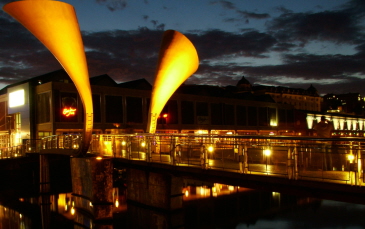 Press release issued: 22 September 2014
City streets will be illuminated by an exciting showcase of discoveries as the first ever Bristol Bright Night sweeps through the city this week.
The event will run from midday to midnight on Friday 26 September and features interactive exhibitions, demonstrations, talks and live street performances designed to engage the public and celebrate Bristol's reputation for cutting edge research.
The special evening - part of the annual EU Commission funded 'Researchers' Night' programme - is a meeting of minds of both Bristol universities and Bristol Natural History Consortium.
The University of Bristol has over 100 researchers delivering an eclectic programme of events to Bristol's public in venues across the city.
In outdoor spaces from the Bearpit to the Arnolfini Gallery the University of Bristol's science street theatre troupe will be taking over the city dressed as pirates, weathermen, surfers and fish, as they entice Bristolians to explore science through interactive games, comedy and mime.
In At-Bristol Professor Bruce Drinkwater will give a talk exploring the 'magic' of levitation using ultrasound, and investigate whether these high pitched sound waves can turn the mysticism of human levitation into reality.
At-Bristol also offers a host of interactive stalls and is open to the public all evening long. Bristol researchers will challenge visitors to make earthquakes, demystify the science of cocktails and figure out the quickest way for a crowd to escape through an emergency exit in the Bottleneck Machine.
For those with a thirst for knowledge but a shorter concentration span the Watershed hosts five minute insights into some of the innovative scientific research that takes place at the University - followed by an informal, free tapas and meet the scientist event, to which all are welcome. Marie Curie Fellows will be on hand to share their Cabinet of Curiosities at the same venue.
The public can also participate in University of Bristol research. The Tobacco and Alcohol Research group's study A Scientist Walks into a Bar questions what affects our drinking behaviour and how our drinking behaviour affects us, while Dr Christos Ioannou and Rebecca Floyd will conduct an experiment loosely based on Ask the Audience from Who Wants to be a Millionaire to investigate how we use information from others to answer general knowledge questions. Participatory events take place at the Watershed and At Bristol.
Bristol's schools are taking part in an award ceremony where the winners of the 'Bristol Bright Ideas' competition will be announced. Students put forward research ideas based on the title 'My City', and the winners will have an opportunity to develop their ideas with an academic and be included in the 2015 Bristol Bright Night programme, as part of the Bristol Green Capital celebrations.
Professor Nishan Canagarajah, Pro Vice-Chancellor - Research said: "We are very excited to have over 100 researchers representing the University at Bristol Bright Night.
"This is a great opportunity for our researchers to share their research ideas with the public and to demonstrate their relevance to the wider society."
During Bristol Bright Night simultaneous events will take place in over 300 cities, spanning 24 European countries.
Bristol Bright Night takes place on Friday 26 September 2014. For further information visit the Bristol Bright Night website.