View all news
Improving the health and wellbeing of young Bristolians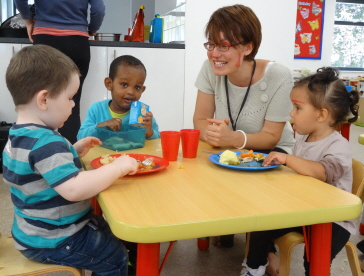 Press release issued: 17 September 2014
A new project to improve the health of children across Bristol gets underway this month as experts from across the city join forces to tackle the inequalities faced by 20,000 youngsters living in poverty.
With deprivation in the city higher than the national average, a team of academics, public health specialists, parents and community groups will work together to improve the services and advice currently available at grass roots level.

The Bristol Network for Early Years Health and Wellbeing (BoNEE) is a Health Integration Team (HIT) - a group of healthcare professionals, researchers and members of the community who work together to tackle health problems in Bristol through Bristol Health Partners.
Bristol is a young city with more children under 15 than adults aged over 65, so their health is crucial to the health of the city.
Early Nutrition, oral health, and social and emotional development will all come under the spotlight.
Diet and nutrition during pregnancy and childhood can have lifelong effects. Nearly one in 10 children are obese by the time they start primary school, and nearly one in five by the time they leave.
Statistics show that neighbourhood matters, with close to one in seven children entering school in poorer areas being obese compared to one in 50 in some wealthier neighbourhoods. Also, the number of fast food outlets in Bristol is among the highest in the country.
Dental decay is one of the most common and preventable childhood diseases. Deprived wards within the city have a much higher rate of fillings in children under five-years-old than more prosperous areas.
Dr Patricia Lucas, from the University of Bristol's School for Policy Studies, is leading the research alongside Jo Williams, Consultant in Child Public Health at Bristol City Council.
Dr Lucas said: "The early years, from pregnancy to the age of seven, are very important for lifelong health. This is a time of growth and development, when bones, bodies and minds are at their most flexible and changeable. Small differences in these early years can make big differences to our health, so we need to make sure every child has the best start."
Jo Williams added: "A child's experiences during the early years lay down a foundation for the whole of their life. We know that children's early experiences vary hugely across our city but we want to enable all children to have a healthy start regardless of their background and circumstances."
Youngsters aged two and three helped to get the project underway today [17 September] at a special workshop held at the new Cashmore Nursery in Barton Hill. They were encouraged to draw, paint, print or make collages to explore their ideas about healthy bodies.
Simon Holmes, Head of Cashmore Nursery and Barton Hill Children's Centre, said: "I think this is a really exciting and unique project and we are very proud to be a part of it. I'm sure approaching health and wellbeing through a playful and fun approach with children of such a young age will help to encourage good habits for life."
BAFTA award-winning film and animation production company Arthur Cox will be making a short film to capture all the action from the workshop.
It will be shown, alongside the children's artwork, when BoNEE is launched to the public on 6 November. The free exhibition, being held at the Trinity Centre, is part of the University of Bristol's Thinking Futures festival.
BoNEE has received funding from Bristol Health Partners, the Cabot Institute and the Elizabeth Blackwell Institute.
Further information
About Bristol Health Partners
Bristol Health Partners is a strategic collaboration between the city's three NHS trusts, three clinical commissioning groups, two universities and its local authority. It aims to maximise Bristol's health research, and to transform the understanding, prevention and treatment of key health problems in Bristol. The nine organisations involved have formed Bristol Health Partners voluntarily, and it is funded by contributions from the partners.
About Thinking Futures
Thinking Futures is an 11 day long Festival from the 1 to 11 November to share and celebrate research from the University of Bristol's Faculty of Social Sciences and Law. The programme comprises a wide variety of events for the general public, schools, policy-makers and third sector organisations, held in Bristol.
Engage with the University's researchers and see how the social sciences inform key debates and advances in policy and practice for governments, education, charities, health services, legal systems, and public services around the globe.