View all news
To boldly go: what is the point of space exploration?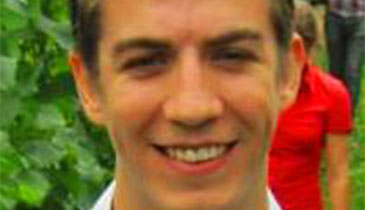 Press release issued: 30 September 2014
The UK's space activities employs over 100,000 people and contributes nearly £10 billion to the economy but why bother with space exploration? This question will be debated by a panel including an aerospace engineering PhD student from the University of Bristol as part of the Battle of Ideas 2014 to be held in London next month [18 and 19 October].
Ashley Dale will speak alongside Will Whitehorn former president of Virgin Galactic; David Parks, an education pioneer pushing forward science, technology, engineering and mathematics(STEM)-focused schooling and two prominent figures in astrobiology and space policy, Professor Ian Crawford and Dr Jill Stuart.
The public debate organised by the Institute of Ideas will take place at the Barbican, London on Sunday 19 October at 2 pm.
Ashley Dale, who recently wrote an article on space economics published in BBC Sky at Night Magazine, will argue that on average, an individual working directly in the UK space sector generates an added value of about £135,000 GDP to the economy, nearly six times the per capita average of £23,000.
He will claim that NASA's Apollo programme generated a surge of young interest in space exploration, essentially doubling the number of STEM graduates from high-school through to PhD in the USA over that era. The Apollo programme ran from 1962 to 1972 and was responsible for the landing of the first humans on the Moon in 1969.
Ashley will reason that the International Space Station is the physical manifestation of the reunification of the USA and Russia and now stands as a platform for broader international co-operation.
Finally, Ashley will discuss how Venus has demonstrated the true capability of greenhouse gases and global warming. The Sun has shown it has a volatile mood that threatens electronics and spaced-based infrastructures and Mars has revealed the significance of the Earth's atmosphere and ozone layer but also stands as a promising second home.
Ashley Dale, said: "Last year, the UK government invested £267 million in space activities, about 0.03 per cent of government spending. This was alongside approximately £900 million spent on the upkeep of the Trident nuclear missile system through the Ministry of Defence and about £200 million towards gastric band surgery, treatment, and recovery through the NHS.
"Does it invest enough in space to direct these evidently lucrative activities along the path that fits long-term economic development best? Compared to other developed nations, this might not seem to be the case."
This is the tenth Battle of Ideas event and over 2,000 people are expected to attend the weekend festival, which has over 80 sessions. Tickets are available from the Barbican Box Office and include a limited number of Student Champion 2014 weekend tickets at the special price of £27.50.
To boldly go: what is the point of space exploration? will take place on Sunday 19 October from 2 until 3.30 pm at Cinema 3, Barbican, London.