View all news
Gene variant that dramatically reduces 'bad' lipids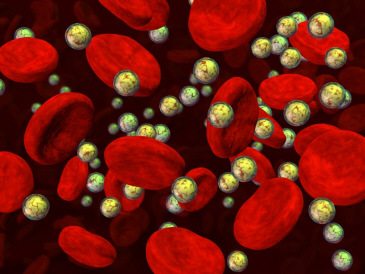 Press release issued: 16 September 2014
Research using data collected from around 4,000 healthy people in the UK has enabled scientists to identify a rare genetic variant that dramatically reduces levels of certain types of lipids in the blood.
The study, published today [16 September] in Nature Communications, is the first to emerge from the UK10K Project's cohort of samples from the general public and demonstrates the power of whole genome sequencing at scale.
By looking at whole genome sequences from 4,000 people and comparing this with data about their lipid levels, a group of scientists led by the University of Bristol spotted an association between levels of lipids called triglycerides and the presence of the APOC3 gene variant.
The research suggests that people with the rare change - approximately 0.2 per cent of the population - typically have lower levels of triglycerides, which is associated with reduced risk of cardiovascular disease.
Dr Nicholas Timpson, first author from the Medical Research Council (MRC) Integrative Epidemiology Unit at the University of Bristol, said: "Until now it has only been possible to look for common variants of small effect in large genome wide association studies.
"Thanks to the quantity of data available through the UK10K Project and because of the relatively large effect of this variant, we have been able to find a raregenetic variant that has clinical relevance."
Two studies in the New England Journal of Medicine have recently explored the role of this genetic variant through the examination of APOC3 in a targeted approach, and through coding and analysing only part of the genome. These studies give important context to this finding as they also relate this change to heart disease.
Professor Steve Humphries, a British Heart Foundation-funded senior author from University College London, added: "These three studies independently reporting this finding give us confidence that it is reliable and informative for clinical understanding. Once we can understand the mechanism of the protective function of this variant, we can try to use this information to develop novel therapies to help those at risk of cardiovascular disease."
This is the first in a series of studies that will use whole genome sequences and clinical information about physical characteristics from the UK10K project to find rare genetic variants.
Dr Nicole Soranzo, senior author from the Wellcome Trust Sanger Institute, said: "Extending genome wide association studies to include whole genome sequencing can help us to identify more clinically informative variants. Data collected as part of the UK10K project is essential to this and we are beginning to see its extraordinary value."
Further information
Paper
'A low-frequency variant near APOC3 is associated with plasma triglyceride and VLDL levels in Europeans Timpson' by N Timpson et al (2014) in Nature Communications. DOI:10.1038/NCOMMS5871
About the Wellcome Trust Sanger Institute
The Wellcome Trust Sanger Institute is one of the world's leading genome centres. Through its ability to conduct research at scale, it is able to engage in bold and long-term exploratory projects that are designed to influence and empower medical science globally. Institute research findings, generated through its own research programmes and through its leading role in international consortia, are being used to develop new diagnostics and treatments for human disease.
About the Wellcome Trust
The Wellcome Trust is a global charitable foundation dedicated to achieving extraordinary improvements in human and animal health. We support the brightest minds in biomedical research and the medical humanities. Our breadth of support includes public engagement, education and the application of research to improve health. We are independent of both political and commercial interests.
About the MRC
The Medical Research Council has been at the forefront of scientific discovery to improve human health. Founded in 1913 to tackle tuberculosis, the MRC now invests taxpayers' money in some of the best medical research in the world across every area of health. Twenty-nine MRC-funded researchers have won Nobel prizes in a wide range of disciplines, and MRC scientists have been behind such diverse discoveries as vitamins, the structure of DNA and the link between smoking and cancer, as well as achievements such as pioneering the use of randomised controlled trials, the invention of MRI scanning, and the development of a group of antibodies used in the making of some of the most successful drugs ever developed. Today, MRC-funded scientists tackle some of the greatest health problems facing humanity in the 21st century, from the rising tide of chronic diseases associated with ageing to the threats posed by rapidly mutating micro-organisms.