View all news
Thinking about our futures: festival puts society in the spotlight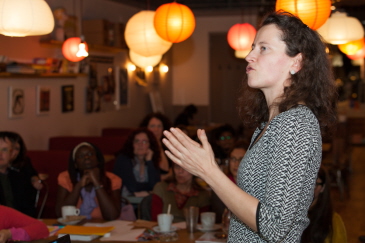 Press release issued: 27 October 2014
Who has access to your health records? What do women want from the general election? Can Britain handle the threat of international terrorism? These are some of the hot topics being debated at a thought-provoking series of events across Bristol next month.
Issues affecting everyday life in the UK will come under the spotlight as part of the Thinking Futures festival, organised by the University of Bristol, which gets underway on 1 November.
It's an opportunity to hear from some of the country's leading social scientists on a wide range of topics, from hands-on health activities to a discussion about the risks posed by nuclear power.
Among the subjects being discussed is the future of British defence. On 3 November, Professor Tim Edmunds will draw on over 10 years of research to explore the challenges, choices and opportunities faced by the UK in a complex and uncertain security environment.
Questions surrounding how our everyday environment is deliberately shaped to influence our behaviour will be answered by Dr Olivia Maynard on 3 November. Looking specifically at eating, drinking, exercise and smoking, she will examine the roles of music, glass shape and packaging on population health.
The Galleries will be transformed into an interactive hive of activity on 8 November, when people of all ages are invited along between 9am and 5.30pm to learn more about health and wellbeing.
The amount of sugar in fizzy drinks will be explored, there will be a game to test nutritional knowledge, and people will have the opportunity to test their brain speed. Children will be invited to draw a picture of what health means to them as part of a new project called BoNEE (Bristol Network for Early Years Health and Wellbeing), which aims to improve the health of children across the city, and there will be an African dance session between 12noon and 1.30pm, inspired by the Active7 project.
BoNEE will also be hosting an exhibition and discussion at the Trinity Centre on 6 November, looking at the project and finding out what the public think are health priorities for children under seven.
Other subjects include the role of patchwork and quilting in society, whether musicians need to be more entrepreneurial to survive in the digital age, how poetry can help us process climate change, the rise and fall of the bedroom tax, whether violence in film reflects reality and how people with disabilities can make unique contributions to resilient communities.
Professor Wendy Larner, Dean of the Faculty of Social Sciences and Law, said: "Thinking Futures has proven very popular since it was first held in 2012, so much so that we've made it longer this year with even more events.
"We're looking forward to sharing our latest social science research with the public at venues across the city. Topics are both diverse and engaging, covering aspects which affect our daily lives in some shape or form."
The festival runs until 11 November. For a full programme of events, please see the Thinking Futures website. All events are free and some require booking in advance.
Thinking Futures is part of the 12th annual Festival of Social Science – a national event run by the Economic and Social Research Council featuring over 200 events.
Further information
The hashtag for Thinking Futures is #TF2014 or follow @uobfutures for updates.
About the Festival of Social Science
The 12th annual Festival of Social Science takes place from 1 to 8 November 2014 with over 200 free events nationwide. Run by the Economic and Social Research Council, the Festival provides an opportunity for anyone to meet with some of the country's leading social scientists and discover, discuss and debate the role that research plays in everyday life. With a whole range of creative and engaging events there's something for everyone including businesses, charities, schools and government agencies. A full programme is available on the ESRC website. You can also join the discussion on Twitter using #esrcfestival.