View all news
Planning the future of education in Rwanda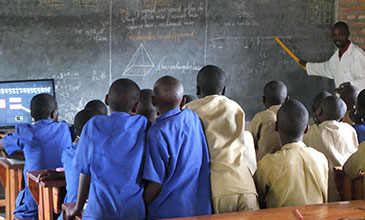 21 October 2014
The University's Graduate School of Education has successfully led a bid for funding from the Department for International Development to develop a 'hub for innovation' in the Rwandan education system.
Professor Leon Tikly is leading an international consortium, founded to support the Rwandan Ministry of Education in creating the conditions for new ideas and approaches to be introduced in the education sector in Rwanda. Innovation is seen as crucial for transforming the education system and so as to bring about improvements in teaching and learning.
Besides Professor Tikly and Adeela Shafi from Bristol, other members of the consortium include the Innovation Unit (which leads the Global Education Leaders Programme), VSO Rwanda, the British Council (Rwanda), the University of Rwanda's College of Education, Mediae (a media NGO) and the University of Bath.
The 'Hub for Innovation' was launched in Kigali, Rwanda's capital city, in early October, with a workshop that included senior figures from the Ministry.
The consortium will work with the Ministry to establish a supportive environment for innovation. An array of activities has been planned, including an innovation masterclass and training for senior Ministry officials (led by innovation guru Valery Hannon of the Innovation Unit), an innovation fair in each of Rwanda's five regions, an award scheme, and an international conference to showcase successful innovations.
Professor Tikly said: 'The Graduate School of Education is delighted to be leading this important project. We're bringing together partners with complementary expertise in working with ministries of education to support innovation and in delivering projects.
'The hub has already generated considerable excitement, and we are hoping that there will be potential here for sustained impact. The Rwandan Minister for Education has expressed his commitment to it.'