View all news
New Dean of Health Sciences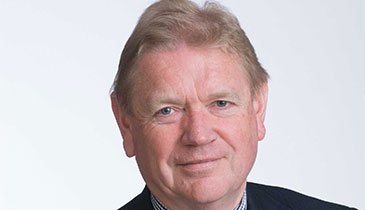 Press release issued: 23 October 2014
Professor Jonathan Sandy, currently Interim Dean of Medicine and Dentistry, has been appointed Dean of the Faculty of Health Sciences, which will take effect from 1 August 2015.
Jonathan Sandy, Professor in Orthodontics, undertook his dental training in London at Kings College Hospital, The London Hospital and the Eastman. In 1982 Professor Sandy was awarded an MSc in Orthodontics and in the same year he obtained a Diploma in Orthodontics. He was awarded a Fellowship in Dental Surgery the following year by both the English and Edinburgh Royal College of Surgeons. He was a founding member of the Academy of Medical Sciences.
In 1985 he completed his Senior Registrar training in Orthodontics and was subsequently awarded an MRC Training Fellowship to undertake a PhD, which he completed in 1988. After completing his PhD, he was funded by the MRC as a postdoctoral scientist for two years in the Biochemistry Department at the University of Cambridge.
Professor Sandy was appointed to the University of Bristol as a Consultant Senior Lecturer in 1991, promoted to a Reader in 1997 and was awarded a Personal Chair in 1999. His main research interests are in cleft lip and palate and the delivery of clinical care by orthodontists. Professor Sandy has co-authored three books and over 150 peer reviewed publications.
During his time at Bristol, Professor Sandy has been responsible for developing the postgraduate programme in orthodontics, setting up the dental NIHR Academic Clinical Fellowship and Academic Clinical Lecturer programme. He has also had leadership roles in education including Chairing the Dental Education Committee and being selected as Head of Teaching.
In 2007 Professor Sandy was appointed Head of the Dental School and in 2011 he was re-elected for a further four years. He completed a term as Lead Doctor for the University Hospitals Bristol NHS Foundation Trust from 2009-2012.
Professor Sir Eric Thomas, Vice-Chancellor of the University of Bristol, said: "I am delighted that Professor Sandy has taken this important role. The faculty has many strengths and I am confident that under Jonathan's leadership, it will thrive as both a leading research and teaching community, fostering close team working and interdisciplinary collaboration."
Professor Sandy said: "I am very proud to have been appointed to this role and understand the expectations and demands that will follow. I also recognise the significant talent and ability of staff and students in the Faculty and will do my best to nurture these for the benefit of all."
Further information
About the Faculty of Medicine and Dentistry
The Faculty of Medicine and Dentistry was formed in 2003 and comprises three schools:
School of Clinical Sciences
School of Social and Community Medicine
School of Oral and Dental Sciences
The faculty did well in the 2008 Research Assessment Exercise with many of our groups being rated as world-leading. We are also proud of our educational excellence in medical and dental, undergraduate and postgraduate, programmes.
We have strong collaborative relationships with the various National Health Service partners in the area, these close links underpinning much of our education and research activity.