View all news
Secretary of State Vince Cable unveils £28 million expansion at National Composites Centre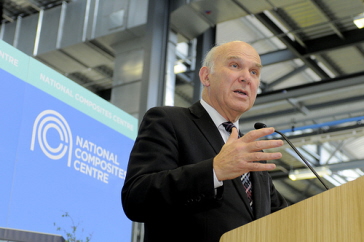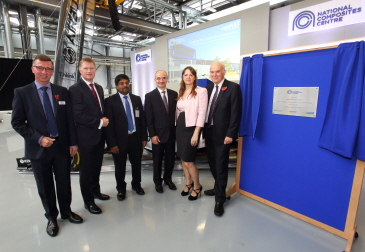 Press release issued: 30 October 2014
A £28 million expansion to the National Composites Centre (NCC), a world-leading research and technology hub owned by the University of Bristol, has been officially opened by Business Secretary Vince Cable.
The major project has seen the NCC double in size, allowing much greater capacity to develop composite technology for the aerospace, automotive, renewable energy and rail sectors.
The Rt Hon Dr Vince Cable MP, Secretary of State for the Department of Business, Innovation and Skills (BIS), was shown an innovative racing yacht, lightweight road cars and the largest openly accessible high-rate manufacturing press for composites in Europe.
He was joined by more than 400 guests to see the new facilities at the NCC, funded by a £28 million investment from BIS, via InnovateUK and the High Value Manufacturing Catapult.
Dr Cable said: "The National Composites Centre is leading the way in developing composites, the advanced materials which are crucial to Britain's aerospace and automotive industries amongst others. Britain is historically very good at making scientific discoveries but not turning these ideas into businesses. The NCC is part of the network of Catapult Centres across the country that is helping us to do just that - providing skilled jobs and a stronger economy."
Based at the Bristol & Bath Science Park, highly-skilled engineers and technicians assist UK manufacturers to research, develop and commercialise new technologies and products.
As well as providing increased capacity and a dedicated high-speed composite manufacturing technology facility, there will be a new world-class training centre for higher level and vocational skills development. This will help train the next generation of engineers in composites manufacturing and technologies and bring together leading businesses, colleges and universities.
Professor Nishan Canagarajah, Pro Vice-Chancellor for Research at the University of Bristol, said: "The NCC is enabling multiple collaborations between industry and higher education partners, both nationally and internationally. Commercialisation of emerging technologies is a significant area of focus for our economy and the activities that take place here are an exemplar of that in action: world-class research combined with the entrepreneurial spirit of investigation and practical application."
Around 50 new jobs will be created at the NCC, with a further 30 to 50 jobs within member organisations.
Peter Chivers, NCC Chief Executive, said: "The NCC is building the future for UK composites. We will work with companies to accelerate innovation and develop people to deliver commercially viable solutions.
"Thanks to the BIS capital investment, and HVM Catapult Core funding, we have now installed the world's largest openly accessible high rate manufacturing press for composites manufacturing. This is aimed at supporting sectors such as automotive, where developing high-rate, low-cost manufacture of composite components is critical. This press is only in its first week of factory trials, yet it is already producing parts within just six minutes."
The NCC has powerful support from industry. This year alone sees more than £14m of technology development work from industry pass through the centre.
After only three years, the NCC has nearly 40 members and has worked with more than 100 companies.