View all news
Bristol academic wins inaugural Marcel Arnould Medal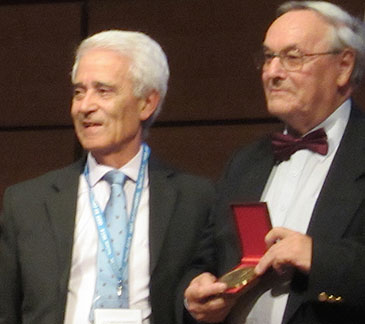 29 October 2014
Dr Brian Hawkins of the Department of Civil Engineering has been awarded the first Marcel Arnould Medal by the International Association for Engineering Geology and the Environment (IAEG).
The IAEG introduced the Marcel Arnould Medal this year to celebrate its 50th anniversary. The medal will be awarded every four years, in recognition of the recipient's significant contribution to the engineering geology profession in their field, and outstanding services to the IAEG.
Dr Hawkins has been a Reader in Engineering Geology in the School of Earth Sciences and currently lectures in the Department of Civil Engineering. He was presented with the award by the President of the IAEG, Professor Carlos Delgado, at the IAEG Congress in September in Torino, Italy. The congress was dedicated to the memory of IAEG Honorary President Marcel Arnould, renowned for his work in the field of engineering geology.