View all news
Iconic building shines for hope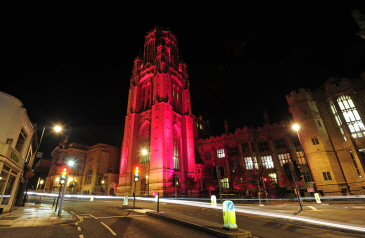 31 October 2014
Bristol's iconic Wills Memorial Building will be illuminated by purple lights tomorrow [Saturday 1 November] to mark the start of Pancreatic Cancer awareness month.
It joins over 30 UK landmarks sharing the purple glow as part of 'Purple Lights for Hope' – the latest campaign run by Pancreatic Cancer UK.
This is not the first time the Wills Memorial Building has been used to highlight important issues. Previous light ups have supported the Time to Act campaign to end sexual violence in conflict and Breast Cancer Awareness' Wear it Pink campaign.
The building has even held a special lights out event, which commemorated the start of World War I.
To mark the latest illumination, local residents Karen Ellison and Hannah Skinner will hold an awareness raising stall at the venue on Saturday 1 and Sunday 2 November.
At 6.30pm on Saturday evening they will hold a vigil, lighting up the night sky with purple glow sticks.
Karen runs a Pancreatic Cancer UK 'Friends and Fundraisers' group in Bristol and the Purple Lights for Hope event will be used as an opportunity to officially launch the group.
She said: "I am so pleased to be taking part in Purple Lights for Hope and to be highlighting such important messages about this often neglected disease. I'd like to thank the University of Bristol for agreeing to the Wills Memorial Building being lit up purple.
"If anyone would like to help us give out awareness materials or join us for our vigil on Saturday evening, we'd be delighted to have more support."
Supporters can upload photos and updates from across the UK on the Pancreatic Cancer UK's social media platforms Facebook and Twitter using the hashtag #purplelights.
If you wish to join Karen and Hannah at the Wills Memorial Building please call 0117 904 2972.
Further information
Pancreatic cancer has the lowest survival rate of all of the 21 most common cancers in the UK with only around 4% of people diagnosed surviving five years or more. This figure has hardly changed in 40 years.
Pancreatic cancer is the fifth most common cause of all cancer deaths in the UK and it is predicted that by 2030 pancreatic cancer will overtake breast cancer as the fourth most common terminal cancer.