View all news
FoodCycle pop-up to celebrate in city centre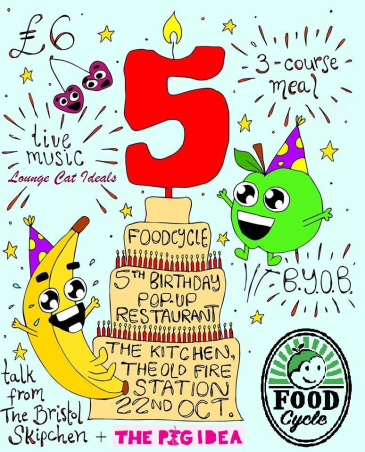 Press release issued: 20 October 2014
A three course meal whipped up from 'waste' food, local live music and speeches from ethical eaters will take place on Wednesday [22 October] to celebrate FoodCycle Bristol's birthday.
The event – a pop-up restaurant in The Kitchen on Silver Street – will mark the fifth year of FoodCycle Bristol, a group of local volunteers led by University of Bristol students who collect, cook and redistribute surplus food from local shops and supermarkets.
The fundraising birthday event includes a three-course meal, live music and talks from members of the recently established Skipchen and from The Pig Idea.
Pop-up Restaurant Manager and dental student Dylan Rakhra said: "As managers for the pop-up restaurant we have a passion for spreading the FoodCycle message. It's a great opportunity to create a lively atmosphere where local artists and musicians can showcase their work. People can get involved in cooking and just have a really fun evening."
FoodCycle is a national charity with volunteer-run local hubs which strive to maintain their vision of 'no good food wasted' and has been in operation since 2009. The Bristol branch serves 20 to 40 guests every week, runs community outreach and education projects and maintains a community garden.
The organisation's Bristol volunteers cook up and serve a free vegetarian three-course meal in Easton Community Centre every week, using food collected from the local area by bicycle.
FoodCycle has recently undertaken a social impact review, which revealed that since May 2009 over 120,000 kilograms of food that would have been thrown away have been used to create at least 105,000 meals which feed local communities.
Seventy-three per cent of FoodCycle guests reported eating more fruit and vegetables after eating at FoodCycle and 80 per cent of diners claim to be wasting less or being more aware of food waste since visiting FoodCycle.
The Bristol birthday event will take place on Wednesday 22 October at The Kitchen on Silver Street, tickets are £6 and are available here.