View all news
Online resource launched about personal experiences of cleft lip and palate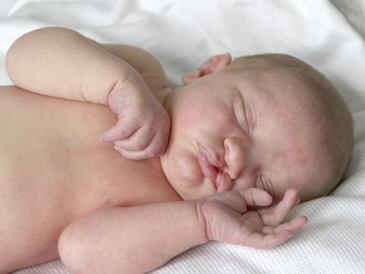 Press release issued: 17 October 2014
About one in 700 babies in the UK are born with a cleft lip, a cleft palate or a cleft lip and palate. A detailed online resource for families and individuals affected by this condition will be launched this weekend at CLAPA's annual conference.
Researchers from the University of Bristol and the University of Oxford travelled around the UK to talk to 24 families and 15 individuals about their experiences of cleft lip and/or palate, on film.
Families and individuals across England, Wales, Scotland and Northern Ireland talked about a variety of topics including diagnosis, feeding, bonding, treatment, public awareness and social interaction with respect to cleft lip and palate.
Those affected by cleft lip and/or palate will be able to find detailed information and support by reading about the experiences of other families who have been in the same situation and by watching video clips from their interviews on the healthtalk.org website. The resource will also offer advice to health professionals in dealing with these conditions.
Dr Aidan Searle, a Research Associate from the School of Oral and Dental Science at the University of Bristol conducted the research with his colleague Dr Andrea Waylen and Dr Sara Ryan from the University of Oxford.
He said: "It is anticipated that the experiences documented will provide an informed, balanced and representative view for families and individuals affected by cleft not only in the UK but the wider world.
"The resource will also be of interest to health professionals working within the cleft service in the UK as it provides an insight of the patient and family experience of cleft services. Such an insight may help to improve communication, particularly with regard to diagnosis, feeding and treatment."
Users will also have the opportunity to provide feedback to the researchers on the content and utility of the website as part of an ongoing evaluation process.
healthtalk.org is a charity website that provides freely available health information through personal stories of health and illness, shared on film.
Further information
healthtalk.org is an award-winning charity website. On the website people can watch video clips, listen to the voices or read the accounts of people relating to their experiences of a wide range of health conditions.
The Health Experiences Research Group is based at the Nuffield Department of Primary Care Health Sciences, University of Oxford. The project for cleft lip and/or palate is being funded by the National Institute for Health Research, Research for Patient Benefit Programme.
The full resource can be viewed here