View all news
Henrietta Lacks and her cell line inspires 'A Brush with Immortality'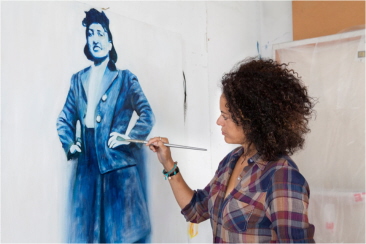 Press release issued: 6 October 2014
Local artist Helen Wilson-Roe will be screening her documentary and taking part in a Q and A with three University of Bristol academics as part of her exhibition – A Brush with Immortality.
Prof Craig McArdle from the School of Clinical Sciences, Dr Jon Lane and Prof Harry Mellor, both from the School of Biochemistry, will be joining Helen to consider questions around permission, how art can inform science, and the role of the individual in large scientific projects.
The exhibition, which takes place from 10 to 17 October in The Trinity Centre, focuses on Henrietta Lacks, an African-American woman from Baltimore who died from unusually aggressive cervical cancer. A sample of her cancer cells became the first cells to survive and multiply outside the body, creating the 'immortal' cell line HeLa.
HeLa have since been grown in laboratories around the world, and millions of people have benefitted medically from the advances they enabled. Research using HeLa cells has led to some of the most important developments in medical history, including the polio vaccine, cloning, and gene sequencing.
The Bristol University academics assisted Helen with her research - allowing her unique access to the cells in a laboratory environment. All three scientists also feature in the documentary, discussing their work with the HeLa cells.
Helen's portrait paintings highlight the forgotten history of their subjects. Having first read about Henrietta in 1997, Helen began to research Henrietta and her HeLa cells further, discovering that her cells were unknowingly donated. Her family remained ignorant of her contribution to medical history for almost 20 years after her death.
She began collaborating with the Lacks family in 2010, when Helen had the aim of making an image of Henrietta for the family to reclaim her image. However after meeting 27 members of the family in 2012, Helen agreed to paint as many family members as she could.
Through the documentary and the portraits painted of Henrietta and her family, Helen hopes to make the image and her family's pride Henrietta's legacy – visible beyond the scientific research community.
Helen said: "I want to acknowledge the enormous contribution Henrietta Lacks has made to medical science but for the public to remember her as a strong Black woman with a family first. Henrietta made a global impact in health and medicine but this still remains largely unknown by people outside the medical profession.
"Art and science are the same thing to me, working with the Lacks family and the Bristol scientists has made me into a better artist and a better person"
The event will also feature a performance by Kinsman, a spoken word piece by Louisa Adjoa Parker, and a dance performance by Remi Tawose who have both been inspired by Henrietta's story.
The Q&A takes place on 10 October at 6.15pm. The event is free, but advance booking is required. Tickets can be booked via Eventbrite.