View all news
Engineering postgraduate receives Industrial Fellowship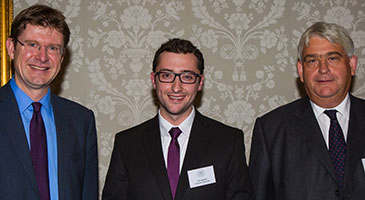 13 October 2014
Tom Barber, a postgraduate in the Department of Mechanical Engineering, has been awarded an Industrial Fellowship by the Royal Commission for the Exhibition of 1851.
His is one of nine new Industrial Fellowships, which provide recent graduates with the means to develop innovative technology with commercial potential, ideally leading to a patent, while completing a PhD or EngD. Each Fellow receives £80,000 worth of funding over three years for their work, to be carried out in collaboration with an academic institution and a business partner.
Tom is working with BAE Systems Submarines and the University of Bristol to streamline the submarine manufacturing process by making the pre-service inspection of pipe welds safer, cheaper and more precise.
He and the other 2014 Fellows were recognised at a ceremony attended by the Rt Hon Greg Clark, Minister of State for Universities, Science and Cities.
Further information
The Royal Commission for the Exhibition of 1851 was set up by Prince Albert to organise the Great Exhibition and distribute its profits. It offers major awards to scientists and engineers for research, development and design.
Since they were established in 1990, the Industrial Fellowships have supported over 180 young scientists and engineers, plus numerous UK companies and universities, investing a total of over £12 million in research. The Commission counts 12 Nobel prizewinners amongst its alumni, including recent winner Peter Higgs and Bristol alumnus Paul Dirac.
Each three-year Fellowship is worth over £80,000 and those awarded must work to develop a patented and profitable technology, while completing a PhD or EngD.