View all news
Bristol scientist presents coral reef research at TEDx Brussels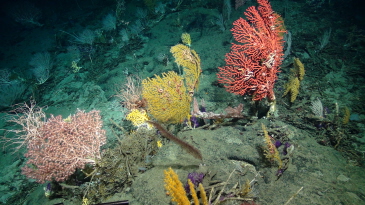 Press release issued: 1 December 2014
University of Bristol scientist, Dr Laura Robinson is one of five European Research Council (ERC) grantees who have been invited to speak at TEDx Brussels today [1 December]. She will talk about how the ocean's environment is changing and give clues as to what might happen in the future.
An oceanographer in Bristol's School of Earth Sciences, Dr Robinson's research has taken her to the furthest reaches of the world: drilling ice cores in Antarctica, operating deep-sea robotics in the deep ocean and mapping desert rocks.
Using equipment designed to analyse trace amounts of radioactive and stable elements, her team is discovering how and why the ocean changes over time and the impact that these changes have on the diverse deep-water corals reefs that live on ocean mountains.
Last year, Dr Robinson and her team set out on the James Cook research vessel to encounter unique and unexplored corals. The team crossed the equatorial Atlantic to take samples of deep-sea corals, reaching depths of thousands of metres. On the expedition, Dr Robinson collected samples that are shedding light on past climate changes and she will share her findings at TEDx Brussels.
One of the team's aims is to discover the conditions required for cold-water deep-sea corals to survive in the central Atlantic. To do this, they couple a modern 'snapshot' of where and why corals live today with a historic perspective gained from determining the age of fossil coral populations. Documenting such information is particularly important as these ecosystems are thought to be particularly vulnerable to changes in ocean chemistry.
One of the most innovative aspects of the project is the new geochemical techniques the scientists are using to analyse their samples. When applied to coral skeletons and sediment from the seafloor, these techniques should reveal ancient changes in heat and carbon levels, particularly during times when the global climate moved rapidly from cold to warm conditions. In another first for deep-sea research, the team used an ISIS Remotely Operated Vehicle to take coral skeletons from exactly the same locations as water and sediment samples, so that they can be compared more accurately in a single program of tests.
As our climate continues to change, their findings could help to predict how and when ocean transformations will occur. Dr Robinson said: "It is only through looking at the history of the earth's climate that we can predict what might happen in the future."
Appearing in a session of their own, the five ERC speakers will present their high-risk, high-gain, EU-funded research to around 2,000 influential audience members. This is the first time the ERC is present at the event, which will gather world-class speakers from a variety of fields at BOZAR Brussels, Belgium.
Dr Robinson's talk is available on YouTube.
Further information
About TEDx Brussels
TEDx Brussels is an independently organised TED event. TEDx conferences take place around the world and have their origins in the Silicon Valley technology community in the USA. The events bring excellent speakers and ideas to local communities, and the talks have had hundreds of millions of views on YouTube.
About the ERC
Set up in 2007 by the EU, the European Research Council (ERC) is the first European funding organisation for excellent frontier research. Every year, it selects and funds the very best, creative researchers of any nationality and age, to run five-year projects based in Europe. The ERC also strives to attract top researchers from anywhere in the world to come to Europe. To date, the ERC has funded more than 4,500 top researchers at a variety of stages in their careers.
Under the new EU research and innovation programme Horizon 2020, the ERC has a substantially increased budget of over €13 billion.
The ERC consists of an independent Scientific Council and an Executive Agency. The Scientific Council, the ERC's governing body, is composed of 22 distinguished scientists and scholars. Professor Jean-Pierre Bourguignon has been the ERC President since 1 January 2014. The ERC Executive Agency implements the ERC component of Horizon 2020 and is led by Director Pablo Amor.