View all news
Explosive day of science for pupils visiting the University of Bristol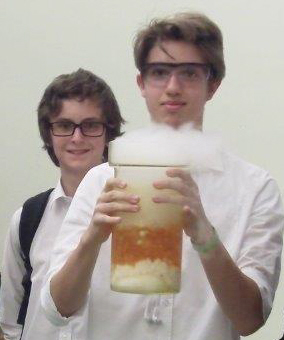 Press release issued: 23 May 2014
Over 60 pupils from across the South West became detectives for a day when they tried their hand at forensic science at Salters' Festival of Chemistry on 21 May.
The youngsters, from 16 schools, set their science skills against each other at the University of Bristol during the annual nationwide event.
Each of the 16 competing schools were represented by a team of four 11 to 13-year-olds, who attempted to solve a murder mystery using their chemistry skills.
In the afternoon, they competed in the University Challenge, a hands-on activity chosen specially by academics from Bristol University.
Tim Harrison, Director of Outreach at the University's Bristol ChemLabS, gave an up-beat lecture involving explosions and experiments with dry ice and liquid nitrogen.
He said: "I am delighted that we have been able to work with Salters' to help promote chemistry to young people. Schools normally have opportunity to celebrate the achievements of students through sports and the arts, it is not often that students with a different skills set can represent their schools through chemistry."
The day concluded with a prize giving at which all participants were given individual prizes and participation certificates. The winning teams were awarded prizes for their schools.
The Salters' Festivals of Chemistry are an initiative of The Salters' Institute, whose aim is to promote the appreciation of chemistry and related sciences among the young. The festival at Bristol University was one of a series of 54 festivals taking place at universities throughout the UK and the Republic of Ireland between March and June 2014.
The event is in partnership with the Royal Society of Chemistry and sponsored by ChemLabS.