View all news
Ports, piers and promenades at the RWA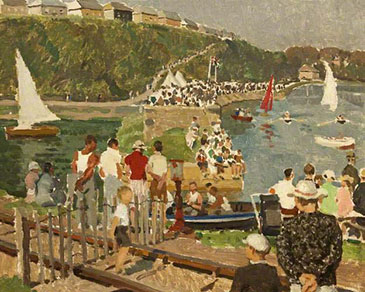 Press release issued: 22 May 2014
A new exhibition of depictions of the English coastline from the Royal West of England Academy's (RWA's) collection, selected by students from the University of Bristol, opens next Thursday [29 May}.
Ports, Piers and Promenades captures the sea and the English coastline, in particular the South West, as a place of both work and leisure. The exhibition includes work by a number of RWA Academicians, including Danny Markey, Dawn Sidoli and Rodney Joseph Burn, and takes in local scenes such as Lord Methuen's Severn Beach in the 1930s, as well as artworks from further afield including David Inshaw's work Timetable (24b).
The students, Minami Fuse, Joss Johnson, Tony Marwick, Yasmin Namdjou and Samantha Wiltshire, curated the show as part of Bristol's MA in History of Art which offers students the chance to collaborate with external museum partners in order to learn how to research and catalogue museum collections and mount exhibitions. The show was devised in response to The Power of the Sea which runs until Sunday 6 July.
Ports, Piers and Promenades reveals how man has made his mark on the coastline, building a life around the sea incorporating both work and leisure pursuits. In many of the paintings the themes of work and leisure appear simultaneously, for example the seaside resort, as depicted in Peter Folke's RWA Wet Day at Swanage provides both jobs and a holiday destination, whilst coastal artists' colonies such as St Ives provide artists with both a retreat from busy city life and an intensive work environment.
Featured artists include: David Inshaw RWA, Alethea Garstin, Rodney Joseph Burn RWA, Matthew Hale RWA, Wilfred Avalon Jefferies RWA, Frederick Appleyard, Donald Milner RWA, Lord Methuen RWA, William Cooper RWA, Charles Andrew RWA, Dawn Sidoli RWA, Peggy Trotman RWA, Margaret Thomas RWA, Pauline Kelly, Danny Markey RWA, William Yeo RWA, John Stops RWA, Frederick Cook RWA, John Hussey, Peter Folkes RWA.
The exhibition runs from Thursday 29 May to Friday 18 July. There will be a Curator's Gallery Talk on Thursday 5 June at 1pm when the Bristol students will give a tour of the exhibition.
Royal West of England Academy, Queen's Road, Clifton, Bristol BS8 1PX. Opening times: Tuesday – Saturday 10am – 6pm; Sunday 11am – 5pm Admission: Adults £5 inc. gift aid, Concessions £3.50 inc. gift aid; Under 16s, University of Bristol, UWE and SGS students FREE
About the MA in History of Art: Histories and Interpretations at the University of Bristol
Bristol's Department of History of Art offers a broad-based Masters programme which allows students to study a range of periods and approaches, before specializing in their dissertation. The MA draws on the research strengths of all members of the Department, with specialists in Medieval, Renaissance, and Modern Art.
It aims to help develop an informed understanding of the main strands of art history, as practised in Europe and North America. It also offers curatorial units in collaboration with external museum partners, in which students learn to research and catalogue museum collections, and mount exhibitions.
The department is proud to work with the Royal West of England Academy, Bristol Museum and Art Gallery, MShed, and also Bath's Holburne Museum. National collaborations currently include the Tate Galleries, National Museum Wales, the Victoria and Albert Museum, the National Gallery, the National Football Museum and the Imperial War Museum.