View all news
Vatican gives rare volume to University Special Collections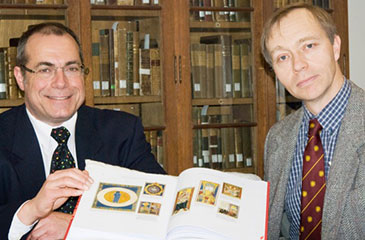 28 May 2014
The University has been chosen to receive a copy of a very rare book, printed by the Vatican, concerning Hildegard of Bingen.
The book, originally intended solely for internal use, laid the foundations for the canonisation in 2012 of Hildegard of Bingen (1098–1179), the medieval abbess, artist, composer, doctor, mystic, saint, scientist and theologian.
George Ferzoco, Research Fellow in the Department of Religion and Theology and the Centre for Medieval Studies, studied the 736-page document in the Vatican while researching a book he has recently co-edited on Hildegard.
'I was permitted to study this amazing document that had been collated by the Congregation for the Causes of Saints,' says Ferzoco. 'It contains a summary and an analysis of all of Hildegard's writings, and a thorough history of her cult. This was used by the Roman Catholic Church in deciding not only to declare Hildegard a saint, but also to make her a Doctor of the Church – an exceedingly rare honour.'
The Prefect of the Congregation, Angelo Cardinal Amato, and the general co-ordinator of the Church's canonisation processes, the Reverend Vincenzo Criscuolo, granted Ferzoco a copy of this document for the University's Special Collections. Bristol is one of a very limited number of institutions, and the only one outside the Italian peninsula, to possess a copy. 'It is easily the starting point for a doctoral dissertation,' says Ferzoco, 'not only on Hildegard and her cult but also in relation to the history of sanctity in the West.'
The University's Arts and Social Sciences Library, where Special Collections is based, has become one of the UK's most specialised collections dealing with hagiography (writings related to sanctity). It also possesses the Acta Sanctorum, a series of documents first published in 1640; the 15-volume Bibliotheca Sanctorum, a scholarly reference work on saints and their cults; and a recent, generous donation by Dr Timothy Bolton of precious medieval manuscript fragments dealing with aspects of Christian holiness.
The book co-edited by Ferzoco, A Companion to Hildegard of Bingen, will be launched formally on Thursday 5 June at Foyle's in Cabot Circus, Bristol, where the University's copy of the Vatican document will also be shown.
Further information
The book launch takes place at 6pm and will include brief discussions of aspects of Hildegard's life and works and a short concert performed by the University's Schola Cantorum. Admission is free, but please book a place by sending an e-mail to bristolevents@foyles.co.uk.