View all news
What do cats really think?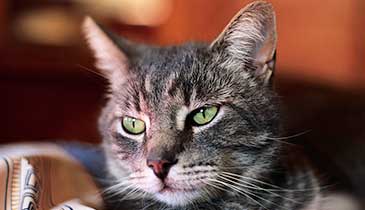 Press release issued: 28 May 2014
Cats are one of the UK's favourite pets but much of what they do remains a mystery. A leading animal welfare expert and author of the book Cat Sense will explore feline behaviour at The Times Cheltenham Science Festival next month.
Dr John Bradshaw, Visiting Fellow and Honorary Director of the Anthrozoology Institute in the School of Veterinary Sciences at the University of Bristol, will discuss the mind of the domestic cat at a talk on Saturday 7 June.
John will dispel the myths and explain what's going on inside a cat's head, as well as decoding a cat's body language and describing their wild-inherited quirks.
Following last year's BBC Two Horizon programme The Secret Life of the Cat, John will also be taking part in a Saturday morning discussion [7 June] with tracking expert Professor Alan Wilson and series producer Nicola Cook, when they will reveal what really happens beyond the cat flap.
Dr Bradshaw said: "Unlike dogs, cats evolved as solitary hunters, and, while many have learned to live alongside humans and even feel affection for us, they still don't quite "get us" the way dogs do, and perhaps they never will. But cats have rich emotional lives that we need to respect and understand if they are to thrive in our company."
In Cat Sense, John uses cutting-edge scientific research to dispel the myths and explain the true nature of the cat. Tracing the cat's evolution from lone predator to domesticated companion, he shows that although cats and humans have been living together for at least eight thousand years, cats remain independent, predatory, and wary of contact with their own kind, qualities that often clash with today's modern lifestyles.
In the book, Dr Bradshaw explains that if people are to live in harmony with cats, they first need to understand their inherited quirks: understanding their body language, keeping their environments - however small - sufficiently interesting, and becoming more proactive in managing both their natural hunting instincts and their relationships with other cats.
The talk, Cat Sense by Dr John Bradshaw will take place at The Times Cheltenham Science Festival on Saturday 7 June at 6 pm in the EDF Energy Arena, Imperial Square, Cheltenham, GL50 1QA. Tickets, booked in advance, are priced at £10 or £9 concessions.
The Secret Life of the Cat with Dr John Bradshaw, Professor Alan Wilson and Nicola Cook, will take place at The Times Cheltenham Science Festival on Saturday 7 June at 11.30 am in the BBC Science Zone, Imperial Gardens, Cheltenham, GL50 1QA. The talk is free and seats will be allocated on a first-come first-served basis.
Further information
The Times Cheltenham Science Festival runs from 3-8 June and offers a wide programme of debate and discovery about science.
The EDF Energy Arena is located on the Festival site at Imperial Square, directly behind Cheltenham Town Hall.
For more information, please visit the festival website or call 01242 537284.