View all news
Vet School celebrates first UK equine sports medicine Recognised Specialist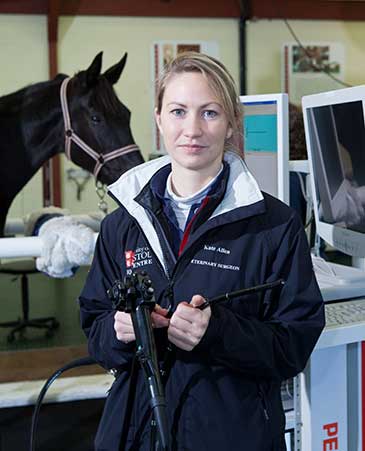 25 March 2014
Dr Kate Allen, Senior Lecturer in Equine Sports Medicine in the School of Veterinary Sciences, has been included in the Royal College of Veterinary Surgeons (RCVS) 2014 Recognised Specialist list.
Dr Allen is the first in the UK to have achieved specialist status in the emerging field of equine sports medicine. She is also the only equine veterinary surgeon in the UK with the qualification of Diplomate of the American College of Veterinary Sports Medicine and Rehabilitation.
To be included on the List of Recognised Specialists, an individual must have achieved a postgraduate qualification at least at Diploma level, and must satisfy the RCVS that they make an active contribution to their specialty, have national and international acclaim and publish widely in their field.
The objectives of the list include the promotion of specialisation within the veterinary profession; the identification, for the public and the profession, of vets who have specialised knowledge and skills; and recognition of specialised competence in key areas.
Dr Allen runs the equine sports medicine centre at Langford, one of the leading centres of its kind in the UK, dedicated to improving the health and welfare of horses used in high-performance sports. It has a long tradition of cutting-edge clinical research, and is equipped to undertake high-speed treadmill assessments, overground endoscopy (so called as it enables assessment of a horse's laryngeal function while the horse is being exercised in its normal environment), assessment of the lower respiratory tract, ECG, echocardiography and gastroscopy.
Professor Joanna Price, Head of the School of Veterinary Sciences, said: 'Becoming the first Sport Medicine Specialist in the UK is a remarkable achievement and on behalf of everyone at the Vet School I would like congratulate Dr Allen. She is a rising star in this discipline and her pioneering work on equine upper airway disorders and poor performance in racehorses is really helping to raise Bristol's profile in this area.'