View all news
Life Sciences builds up to completion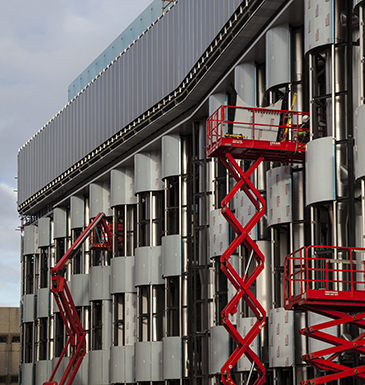 21 March 2014
Work on the construction of the University's new Life Sciences building, which sits on the site of the Old Children's Hospital at the top of St Michael's Hill, is continuing apace.
The erection of the £54 million world-class building for science research and teaching is due for completion in late spring, and work on the public realm, which includes an extension to the historic Royal Fort Gardens and new pedestrian links to St Michael's Hill and Tyndall Avenue, has begun.
The iconic building, designed by architects Sheppard Robson, will house the School of Biological Sciences and will be split into three zones, including a five-storey laboratory wing complete with new state-of-the-art teaching labs, acoustic chambers, spectroscopy and microscope rooms, a wide range of formal and informal learning spaces, an atrium social space and a new BioSciences library.
A central atrium will provide the focal point, leading to both the laboratory wing and a five-storey office wing, which will largely house administration, computer facilities, seminar rooms and a cafe.
The project is the University's biggest construction venture to date, and signifies its commitment to biological sciences research. The central location and cutting-edge facilities will enhance collaboration with departments across the University, including the next-door Centre for Nanoscience and Quantum Information, other science departments and the Medical School.
Further details about the project, photos and a video fly-through of how the new building will look, are available from the School of Biological Sciences.