View all news
Students raise thousands in charity hitchhiking event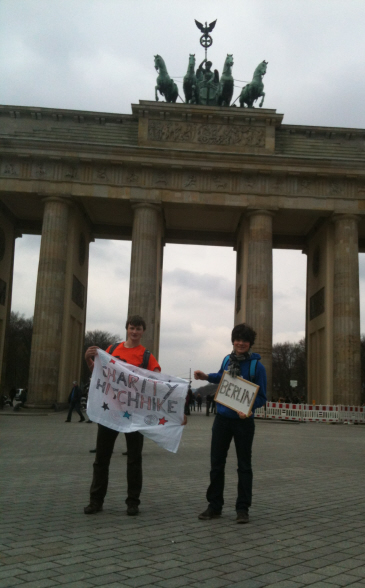 Press release issued: 24 March 2014
Over 40 daring students from the University of Bristol have spent their weekend racing across England and Europe in a bid to be crowned the winners of a popular Raising and Giving (RAG) event.
Jailbreak sees teams of students attempt to get as far from Bristol as possible in 36 hours without spending any money on transport.
Twenty-one teams of students took part in the bi-annual event. The wining team, called 'Le Batman and Robin', travelled an impressive 1100.2km (684 miles) and made it to Berlin.
Team members Robin Fieldhouse and Jacques Le Chevallier confirmed their arrival in the German city just after 2:30pm on Sunday and were thrilled with the news that they had won.
The duo said: "Twelve hitches, 30 hours of hitchhiking, three hours of sleep in a service area, a fantastic trip and the ultimate destination - Berlin. The generosity of the people was surprising and gave us so much joy. We're delighted to be Jailbreak's winners and can't wait to win next year as well."
Nineteen teams made it beyond UK borders, reaching destinations including France, Holland, Belgium and Germany. The combined distance travelled amounted to 12,647km (7,875 miles).
The current total raised stands at £4,665 but donations are still being collected as the teams make their way back to Bristol.
The money will be donated to several different charities, including the Quartet Community Foundation, Cancer Research UK, Marie Curie and Alzheimer's Society.
More information on the teams, how far they travelled and how to donate can be found on the jailbreak website.
The Jailbreak record was set by Mary Spender and Emma Blott (Team Bieber) in March 2011, when they reached Perth, Australia.