View all news
£4.1 million funding for new Centre for Doctoral Training in Condensed Matter Physics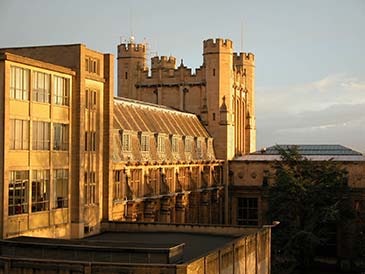 Press release issued: 28 March 2014
A new Centre for Doctoral Training in Condensed Matter Physics at the University of Bristol and University of Bath has received £4.1 million funding from the Engineering and Physical Sciences Research Council (EPSRC), it was announced today by the Chancellor of the Exchequer, The Rt. Hon George Osborne MP.
The Centre will train around 55 PhD students over the next eight years. It brings together leading researchers from the Universities of Bristol and Bath, with highly complementary expertise covering most areas of frontier research in Condensed Matter Physics.
The research themes covered address some fundamental questions in science such as the physics of superconductors, novel magnetic materials, single atomic layer crystals, plasmonic structures and metamaterials, and also more applied topics in power electronics, optoelectronics and sensor development.
Professor Stephen Hayden of Bristol's School of Physics said: "We're delighted to have secured this funding which will allow us to train the next generation of scientists in this exciting field together with our industrial and large facility partners. At the same time we will carry out some cutting edge research. "
The Bristol/Bath centre is one of 22 new Centres for Doctoral Training (CDTs) across the country announced today which will provide postgraduate training in a wide range of engineering and scientific fields important to the UK's economy.
Mr Osborne said: "A forward looking, modern industrial strategy is part of our long term economic plan to deliver security, jobs and growth to all parts of the UK. Our £500 million investment in Centres for Doctoral Training will inspire the next generation of scientists and engineers, ensuring Britain leads the world in high-tech research and manufacturing."