View all news
Bristol landmark illuminates global cause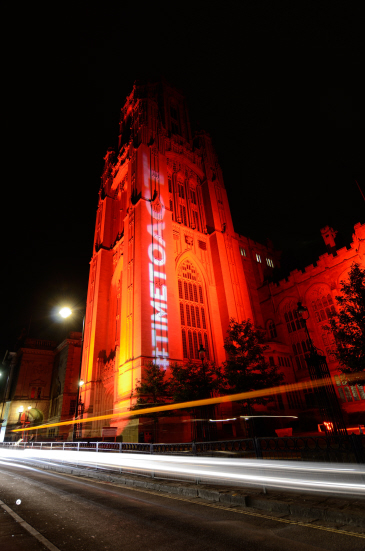 Press release issued: 10 June 2014
The Wills Memorial Building has been lit up with the words #TIMETOACT as part of a major international campaign to end sexual violence in conflict.
The striking projection was visible between 10pm and midnight on Monday [9 June] to raise awareness of the appalling consequences of sexual violence in conflict zones around the world.
The Bristol illumination was part of a series of projections onto iconic buildings being co-ordinated by the Foreign and Commonwealth Office as part of the Global Summit to End Sexual Violence in Conflict (ESVC), which takes place from 10 to 13 June.
The summit, which is hosted by the Foreign Secretary, William Hague, and the Special Envoy for the UN High Commissioner for Refugees, Angelina Jolie, is the largest international event ever held on this issue.
It will bring together governments, NGOs, the UN and the public, and will be promoted across the globe through dramatic light ups.
David Alder, Director of Communications and Marketing, University of Bristol said: "We are pleased to support the raising awareness of this important issue and projecting onto one of our and the city's most iconic buildings seemed a fitting way to do this."
The Foreign and Commonwealth Office is calling on the public to get involved by participating in world-wide activities that raise awareness of the ESVC campaign.
You can show your support by visiting the Global Summit Fringe, sharing the ESVC animation, joining the #TimeToAct photo campaign on Twitter and liking the ESVC on Facebook.
Foreign Secretary William Hague said: "We are trying to do something that has never been done before - to change the entire global attitude towards sexual violence in conflict.

"We want the impact of the Summit to be felt around the world, so that far from any court or judge men with guns will think twice before using rape as a weapon of war in the future. So I hope the UK public will attend in strength - the Summit is open to everyone."