View all news
30,000 people to visit Bristol for latest open days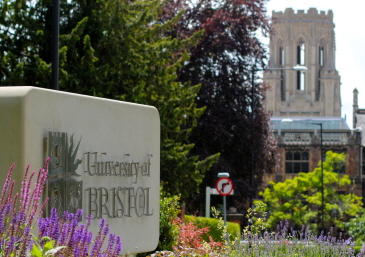 Press release issued: 10 June 2014
Over 30,000 visitors will be attending the University of Bristol's latest undergraduate open days later this month.
Prospective students and their guests will visit the city on 20 and 21 June to see what the University has to offer.
A wide variety of talks and displays will give visitors a taste of university life and a chance to see for themselves what makes Bristol a great place to live. All of the University's schools and departments are taking part and each will host subject talks and interactive demonstrations.
Visitors can also attend lectures on a diverse range of subjects, including talks entitled 'Can love be studied scientifically?' at the School of Experimental Psychology, and 'The missing universe and how to find it' at the School of Physics.
A range of other lectures include how to think like an economist, how our bodies work, and whether management is an art, science, or circus.
General information sessions relating to many aspects of university life, such as funding of studies, will be held in the Wills Memorial Building along with specific sessions for parents and carers, teachers, careers advisors and mature students.
A free shuttle bus service is provided for visitors who would like to look at University accommodation in Stoke Bishop and for students to look around some of the city centre accommodation, offered in partnership with UNITE plc.
Prospective students interested in veterinary nursing and veterinary science courses can travel to Bristol Veterinary School at the Langford campus.
Around 300 student stewards, wearing red t-shirts, will be on hand to answer any questions and help visitors find their way around the University.
Rosie Wildman, Undergraduate Events Officer at the University of Bristol said: "We are excited to offer three opportunities to visit the University, including two Saturday open days alongside our Friday open day for the first time this year.
"Our open days are an ideal opportunity for visitors to see the University, our fantastic city, subject areas, facilities and accommodation, not to mention meeting current students and academic staff across the University campus. We look forward to welcoming our future students to the University of Bristol."
Advance booking is required and can be accessed on the University's website www.bristol.ac.uk/opendays. Booking will close on Monday 16 June.
To keep up to date with what's happening on the day follow @ChooseBristolUG or #bristolopenday.
Following the June open days there will be another opportunity to visit the University on Saturday 13 September 2014. Booking for this event opens on 23 July. For more information please visit www.bristol.ac.uk/opendays.