View all news
Bristol student reaches final of UK ICT Pioneers competition 2014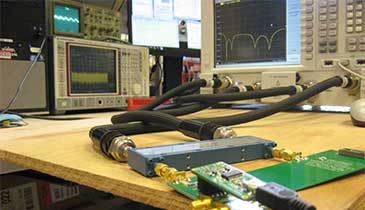 Press release issued: 16 June 2014
A PhD student from the EPSRC Centre for Doctoral Training in Communications at the University of Bristol has been selected as a finalist in the UK ICT Pioneers competition.
Leo Laughlin has been shortlisted for his work on two-way radio communications that could bring about a fundamental change in radio design and could offer a range of benefits such as increased spectrum efficiency, enhanced global roaming and smaller and cheaper devices.
Leo's research is focused on electrical balance in hybrid junctions to achieve simultaneous transmit and receive on the same frequency. His recent work has investigated how this technique can be applied to full duplex radio design to enable transmission and reception using the same frequency allocation on the same time slot.
Together with his supervisors, Professor Mark Beach and Dr Kevin Morris in the Communication Systems and Networks research group and industrial mentor, Dr John Haine at u-blox, they have developed a novel method of minimising self-interference power in a full duplex system. Theoretical results show that the bandwidth of the system is significantly affected by the non-ideal characteristics of the antenna, and simulations with embedded antenna measurements have demonstrated the subsequent impact on performance.
The research team is currently developing control algorithms that maximise the isolation between transmitter and receiver and they plan to build a hardware demonstration including adaptive control.
Mark Beach, Professor of Radio Systems Engineering in the Department of Electrical and Electronic Engineering, said: "Full Duplex wireless is a potentially disruptive technology for 5G wireless access and beyond, doubling the capacity of both current and future generations of wireless systems."
Dr Kevin Morris, Reader in Radio Frequency Engineering in the Department of Electrical and Electronic Engineering, explained: "This PhD research project further highlights the innovative radio frequency research from the Communication Systems and Networks research group at Bristol addressing the telecoms bottleneck."
Dr John Haine added: "As the industrial mentor of Leo's PhD we truly value his research and our strong collaborations with the wider academic team at Bristol."
UK ICT Pioneers is a unique partnership between the Engineering and Physical Sciences Research Council (EPSRC) and key stakeholders that aims to recognise the most exceptional UK PhD students in ICT-related topics who are able to communicate and demonstrate the excellence and exploitation potential of their research.
The 2013/14 competition is being sponsored by: Dstl, HP, EPSRC, ARM, BCS and BT. The competition is open to all second and third year UK postgraduate research students in ICT-related subjects including but not restricted to Electronics, Communications, Computer Science and Human-Computer Interfaces and Photonics.
The overall winner of the competition, together with four category winners, will be announced at an event in London on Thursday 26 June.