View all news
Striking a pose at the Holburne Museum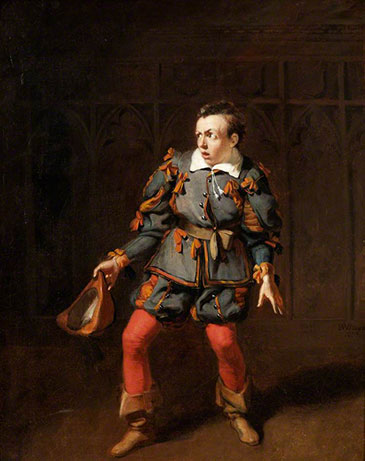 Press release issued: 6 June 2014
A new exhibition, curated by students from the University of Bristol, which brings together rarely-exhibited works from two important local collections of eighteenth-century theatrical portraiture opens tomorrow [Saturday 7 June] at the Holburne Museum, Bath.
Striking a Pose: Gesture in eighteenth-century theatrical portraits features works from the Somerset Maugham Collection at the Holburne and the Mander & Mitchenson Collection at the University of Bristol Theatre Collection.
The students selected and researched material from both collections to create the exhibition as part of their History of Art MA unit 'Curating the Theatre Collection'.
The exhibition uses a selection of oil paintings, watercolours, prints and ceramic figures to show how artists and actors collaborated in portraying the passions, using gesture to represent a wide range of moods, emotions and character types in both comedy and tragedy.
Ownership of the Maugham Collection of Theatrical Paintings (83 oil paintings and watercolours) was transferred early in 2010 from the National Theatre, London to the Holburne Museum and Theatre Royal, Bath. The Mander & Mitchenson Collection, a vast accumulation of theatrical ephemera and works of art, was transferred from the Jerwood Library to the University of Bristol Theatre Collection in December 2010.
The actors Raymond Mander and Joseph Mitchenson took a close interest in the writer Somerset Maugham's collection and researched and catalogued it over three decades. These two private collections, now owned by public museums, are closely related and offer exciting opportunities for study, exhibition and collaboration.
Striking a Pose: Gesture in eighteenth-century theatrical portraits runs from Saturday 7 June to Sunday 6 July 2014 in the Wirth Gallery at the Holburne Museum
About the MA in History of Art: Histories and Interpretations at the University of Bristol
Bristol's Department of History of Art offers a broad-based Masters programme which allows students to study a range of periods and approaches, before specializing in their dissertation. The MA draws on the research strengths of all members of the Department, with specialists in Medieval, Renaissance, and Modern Art.
It aims to help develop an informed understanding of the main strands of art history, as practised in Europe and North America. It also offers curatorial units in collaboration with external museum partners, in which students learn to research and catalogue museum collections, and mount exhibitions.
The department is proud to work with the Royal West of England Academy, Bristol Museum and Art Gallery, MShed, and also Bath's Holburne Museum. National collaborations currently include the Tate Galleries, National Museum Wales, the Victoria and Albert Museum, the National Gallery, the National Football Museum and the Imperial War Museum.