View all news
Igniting the Spark of creativity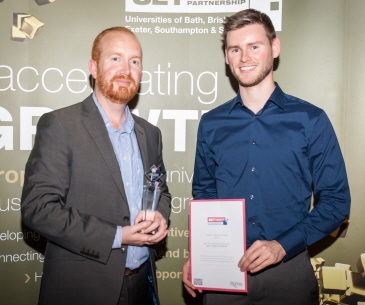 Press release issued: 9 June 2014
Spark, the University of Bristol's bootcamp for young entrepreneurs, has scooped a top award for its work in supporting a new generation of business leaders.
The initiative was recognised at SETsquared's Student Enterprise Awards.
Spark, based at the University of Bristol, runs a course for students wanting to set up their own businesses. It covers topics such as business model development, sales, and pitching.
Spark has already seen two of its students register their companies and others go on to success in national competitions.
The award was for Best Student Enterprise Experience and the ceremony took place at the University of Exeter's IGNITE Guild.
Dave Jarman, Head of Student Enterprise Education at the University of Bristol, said: "We have had terrific feedback from those taking part in our boot camp so to now have this award on top is the icing on the cake.
"We're already looking at making Spark even bigger and better for next year and hope that the results of our work will start to create a new pool of entrepreneurial talent in Bristol."
SETsquared - a partnership of the Universities of Bath, Bristol, Exeter, Southampton and Surrey - incubates high-tech business start-ups and encourages entrepreneurialism among students at the five institutions.
SETsquared's Student Enterprise Awards, which take place every year, seek to honour the best student and graduate businesses from across the Universities, as well as the projects and people that support them.
Simon Bond, Innovation Director at SETsquared, said: "It's never been more important to nurture the next generation of entrepreneurs. These are the business leaders of tomorrow who will create successful companies and, importantly, employment in the UK.
"Spark, like SETsquared, is playing an important role in nurturing that next generation and we are delighted to honour the team with this award."
The next course runs from 16 June. To find out more about Spark and how to get involved visit www.bristol.ac.uk/spark-course
Further information
About SETsquared
SETsquared is a collaboration between the universities of Bath, Bristol, Exeter, Southampton and Surrey which partners in enterprise activities and collectively supports the growth and success of new business opportunities through spin-outs, licensing, incubation and education. The partnership also works with industry through research collaboration and consultancy.
In the last 11 years SETsquared has developed over 1,000 high tech start-ups that have generated some £1bn in investment. It is named by the UBI as the joint best university incubator in Europe and 4th best globally.