View all news
Researcher awarded prestigious prize for impact on policy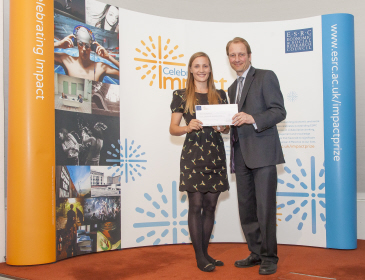 Press release issued: 11 June 2014
A University of Bristol student has won a prestigious award for her research into tobacco packaging.
Olivia Maynard's research focuses on the packaging of tobacco products, particularly how plain, standardised packaging impacts on people's attention to tobacco health warnings.
The award is for Outstanding Early Career Impact, part of the Economic and Social Research Council (ESRC) Celebrating Impact Prize.
This is an annual opportunity to celebrate the outstanding economic and social impacts achieved by ESRC-funded researchers.
Despite only being four years into her research career, Olivia has already attracted international attention from policymakers, anti-smoking lobby groups and the tobacco industry and her study has become a key part of a growing body of evidence underpinning recent reviews and changes in legislation.
During her ESRC-funded PhD research, Olivia used eye-tracking technology to measure the eye movements of adults and adolescents when viewing branded and plain cigarette packs.
She found that in non-established smokers and non-smokers, plain packaging increases visual attention towards health warnings and away from branding.
Her study was the first to use objective behavioural measures to investigate the behavioural impact of plain packaging and suggests that it could be an effective means of tobacco control.
Her research was used most recently by Sir Cyril Chantler, who conducted an independent review of existing research on plain packaging.
Although the research only addresses one aspect of plain packaging - the effect on attention to health warnings - this evidence has informed policy debate in the UK, Australia and other countries worldwide.
Olivia, part of the Tobacco and Alcohol Research Group in the School of Experimental Psychology said: "I am absolutely delighted to have won one of the ESRC impact prizes. It would not have been possible, however, without the incredible support and guidance of my PhD supervisors at the University of Bristol, Professor Marcus Munafò and Ute Leonards. I'll be using the prize money to set up a public engagement stall on my research at the Green Man festival this summer".
You can follow Olivia's research via her twitter account.