View all news
Physicist chats his way to PechaKucha victory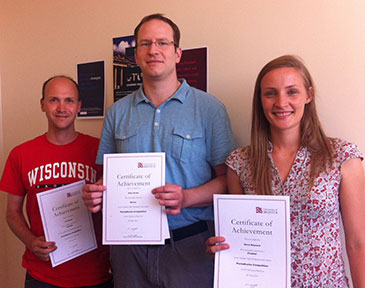 13 June 2014
Dr Chris Erven in the School of Physics is the winner of a competition devised by the University's Academic Staff Development division to encourage research staff to hone their communication and presentation skills.
The 'PechaKucha' competition (derived from a Japanese word for 'chit-chat' and signifying a concise, fast-paced method of delivering a presentation) challenged research staff to explain complex research in a creative and imaginative way. Following the PechaKucha format, participants were restricted to showing 20 slides, for 20 seconds each, with a total of six minutes and 40 seconds to speak on their chosen topic.
The three finalists were Olivia Maynard from the School of Experimental Psychology, who delivered a passionate presentation on her research on the effect of standardised cigarette packaging on visual attention and behaviour; Dr TJ Preston from the School of Chemistry, who gave an insightful explanation of how chemists strive to take snapshots of chemical reactions as they happen; and the eventual winner, Dr Chris Erven, who impressed the judges with his enthusiastic talk on how the use of quantum systems in data protection is set to change the future of information technology.
Communications expert Pete Bailie (a former actor, movement director and drama lecturer at the University, who now works for VOX coaching) was on hand to advise the participants on how to present themselves and deliver their presentations with maximum impact.
The judging panel, which consisted of representatives from Professional Services as well as academic staff, were struck by Dr Erven's ability to portray a complex topic in an engaging, humorous and succinct way, and commended him on his thought-provoking presentation and creative use of slides.
Dr Alison Leggett, Head of Academic Staff Development, said: 'The competition was a positive experience for everyone involved, including the judges, and we are exploring the possibility of running similar events in the future. PechaKucha is an excellent technique for learning how to express ideas in an imaginative and engaging way, and gives researchers an opportunity to acquire skills that will be useful for public engagement and outreach activities.'
Dr Erven added: 'It was definitely a worthwhile exercise, encouraging us to focus on getting across the main content of our talk succinctly and in a fashion that everyone understood without getting lost in slide after slide of figures and graphs.'