View all news
Bristol engineers host international meeting on future internet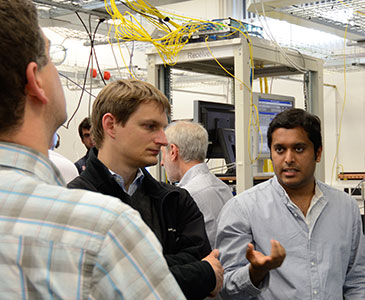 3 June 2014
Leading European industrialists and researchers gathered at Bristol in late May to discuss the future of the high-speed internet.
Bristol's High-Performance Networks Group (HPN) in the Faculty of Engineering hosted a plenary meeting of the EU-funded IDEALIST project, which discussed the development of critical optical solutions to cope with the forecasted dramatic increase of internet traffic demand.
The meeting was attended by participants from various research organisations, research institutes and industry, including Alcatel-Lucent, Coriant, Ericsson, Cisco, BT, Deutsch Telekom, and Telecom Italia.
Discussions focused on flexible optical communication network technologies to respond to emerging demands from cloud computing, 'Big Data', healthcare, smart cities, data centres, wireless communication/sensor networks, and other applications. Based on these discussions, proposed new transmission and switching technologies will allow the delivery of programmable functions and services that can dramatically improve performance and adaptability, and enhance the overall transport efficiency and management of optical fibre networks. Bristol researchers contributed concepts of transformative software-defined and hardware-programmable optical technologies to unlock the flexibility of the future internet.
Outcomes of the meeting included a new definition of several optical nodes and network scenarios involving countries such as Spain, Italy, Germany, and the UK. Additional platforms for experimentation were also proposed, including the use of a new dark fibre infrastructure service to connect Bristol with BT Labs in Ipswich, making it possible for equipment manufactured by different vendors to work together.
The meeting also included a tour of the state-of-the-art High-Performance Network Laboratories in the Merchant Venturers Building. Researchers from the HPN presented demonstrations on 'Flexible and programmable data centre architecture', 'Bandwidth-variable transponders and architecture on demand', and 'Software-defined optical networks'.