View all news
DigiMakers goes back to nature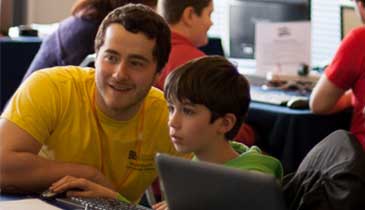 Press release issued: 4 June 2014
With the UK facing a national skills shortage in electrical and electronic engineering and computer science, members of the public will have the opportunity to learn more about the field and have fun with technology at a free event next week [Saturday 14 June]. DigiMakers, part of this month's Festival of Nature, will showcase how electronics and computers can be used to connect with nature and the environment.
The event, organised by the University of Bristol's Faculty of Engineering together with BCS, the Chartered Institute for IT, and At-Bristol, hopes to inspire the next generation of technical innovators and engineers through an introduction to 'making' in the digital world.
Over 1,500 people from around the region have attended previous events and thanks to support from companies including Imagination Technologies, Renishaw, Nvidia, Toshiba, the Society of Merchant Venturers, Sitec Group via the Medlock Charitable Trust and alumni support, DigiMakers will run for a second year.
People attending the event will have the change to take part in hands-on workshops and see some of the cutting-edge technology used by companies.
The workshops will use a range of technologies including Raspberry Pi, Arduino and Lego Mindstorms, alongside programming activities. The event, for young people, parents and teachers, is aimed at anyone from beginner to intermediate level.
With the new national curriculum changes, DigiMakers enables educators to pick-up ideas for the classroom, find out about new technology or just get some advice and an increasing number of teachers have attended previous events.
Caroline Higgins, Outreach Manager for the University's Merchant Venturers School of Engineering, said: ''Our aim is to make electronics and computing fun and accessible to everyone. The curriculum changes in computing has raised the profile of the subject areas but there is still an awful lot of work to be done, if we are going to tackle the serious skill shortage the UK is facing.
"We are absolutely delighted to receive financial support from our industry partners, which will help us secure the future of the event for another year. The feedback we received during the first year has been absolutely overwhelming. There is clearly a huge need for this type of event.''
Raeeka Yassaie, University and Graduate Programme Manager at Imagination Technologies, commented: "Imagination is proud to sponsor DigiMakers. As a UK company we are keen to see young children being encouraged to enter careers in electrical and electronic engineering and computer science. It is important for UK children to understand that there are companies, such as Imagination, developing leading-edge technology here in the UK."
The DigiMakers event aims to provide fun hands-on workshops as well as allowing experts to share ideas with others.
Activities include:
A drop-in centre for those who have just got their Pi out the box but don't know what to do next;
Controlling a Robotic Rover with Scratch;
Catch the biscuit thief using a Raspberry Pi as an intruder alarm;
Dance-Off with Lego Mindstorms;
DigiMakers will be held at At-Bristol, Anchor Road, Bristol BS1 5DB on Saturday 14 June 2014 from 10.30 am to 4.30 pm.
The free event, which will NOT include access to the exhibits at At-Bristol, is aimed at anyone from beginner to intermediate level. To register, go to Eventbrite.
Further information
DigiMakers is part of the Festival of Nature, which will take place on Saturday 14 June from 10 am to 6 pm and Sunday 15 June from 10 am to 5 pm at Millennium Square, Bristol Harbourside, Lloyds Amphitheatre, Waterfront Square and Anchor Square, Bristol.
About BCS - The Chartered Institute for IT
BCS, The Chartered Institute for IT, is to enable the information society. We promote wider social and economic progress through the advancement of information technology science and practice.

We bring together industry, academics, practitioners and government to share knowledge, promote new thinking, influence the development of computing education, shape public policy and inform the public.