View all news
Enjoy the botanical pleasures of summer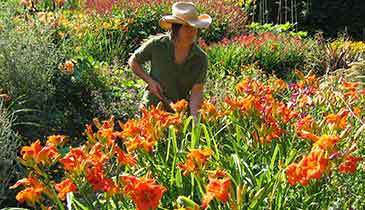 Press release issued: 17 June 2014
Members of the public will have the opportunity to spot summer floral delights at a special tour of the University of Bristol Botanic Garden tomorrow [Wednesday 18 June].
The tour will be led by the Botanic Garden curator, Nick Wray, at 6.30 pm.
Visitors will have the chance to see plants pollinated by bats, possums, sugar and sun birds, as well as hear about new developments in the Garden and learn about plants of seasonal interest including the exotics in the glasshouses.
Summer delights include rare native plants and the unique flora of the Avon Gorge, the exotic Banksia from Australia, gingers, orchids and South African Strelitzia.
Nick Wray, Botanic Garden Curator, said: "Summer is a wonderful time in the Garden as there are floral delights around every corner. I look forward to welcoming everyone on this special guided tour when the Garden will be ablaze with summer colour."
The special tour with the Curator will take place on Wednesday 18 June 2014 from 6.30 to 8 pm at the University of Bristol Botanic Garden, The Holmes, Stoke Park Road, Stoke Bishop, Bristol. Meet at the Welcome Lodge.
Admission: visitors are requested to give a small donation; free to Friends of the Botanic Garden.
Further information is available from the Botanic Garden, The Holmes, Stoke Park Road, Stoke Bishop, Bristol BS9 1JG, tel 0117 331 4906 or email botanic-gardens@bristol.ac.uk
Further information
About the Botanic Garden
June, July, August and September. Open Monday to Sunday from 10 am to 4.30 pm.
Admission is £3.50 adults; free to University staff and retired staff, Friends of the Botanic Garden, students and children under 16.
Dogs (except registered disability assistance dogs) are not permitted in the Botanic Garden.
The Garden is largely accessible for wheelchairs and mobility scooters with a designated path leading around the Garden and glasshouses. Disabled toilet facilities are available on site.
The garden also offers private day, evening and weekend guided tours for groups of ten upwards and gardening or any other leisure clubs. Please contact the garden for further information. There is a charge for the guide.
Directions to The Holmes
From the city centre go to the top of Whiteladies Road, at the junction and traffic lights go straight ahead across Durdham Down towards Stoke Bishop. At the traffic lights go straight ahead and take the first turning on the right into Stoke Park Road, The Holmes is 150 m on the right.
Members of the public wishing to support the work of the Botanic Garden should join the Friends of the Garden. For more information go to the Friends of the Garden or write to Susan Redfern, The Membership Secretary, 24 Dublin Crescent, Henleaze, Bristol BS9 4NA.