View all news
For China and the world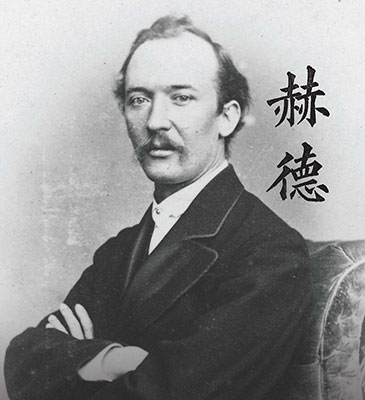 Press release issued: 12 June 2014
A new documentary – a collaboration between University of Bristol historian Professor Robert Bickers and director, Jeremy Routledge of Bristol media company Calling the Shots – gets its London premiere today at the British Academy.
'For China and the World' explores the life, and legacy for British-Chinese relations, of Sir Robert Hart, the most powerful and influential foreign employee of the Chinese state in the nineteenth and early twentieth centuries.
Shot in Britain and China, and making extensive use of images digitised by Bristol's 'Historical Photographs of China' project, the documentary explores Hart's background in Northern Ireland, and his work in China as a British diplomat, and then for over 50 years as head of China's Maritime Customs Service.
The Customs Service during this period was the most important intermediary between China and foreign powers, undertaking a range of activities which helped build the infrastructure for the modern Chinese state, as well as provide revenue for it.
Over 5,500 British men served in the Customs between 1854 and 1950, alongside a similar number of other foreign nationals and 11,000 Chinese. The story is well-known in China, but largely forgotten in Britain where Hart came from, and where he is buried, at Bisham, by the banks of the River Thames.
Long-regarded as a controversial figure, Hart's reputation has been significantly reconsidered in China recently. The film explores this shifting image, and the public and private worlds of this foreign servant of the Chinese state.
Growing out of the activities of the British Inter-university China Centre, directed by Robert Bickers, and funded by the Arts and Humanities Research Council, 'For China and the World' – the title drawn from the epitaph inscribed on the plinth of a statue of Hart that formerly stood in Shanghai – asks what we can learn for British-Chinese relations today from the life and legacy of this enigmatic and industrious man.
Professor Robert Bickers, co-producer, said: "Hart sometimes joked about being made 'Inspector General of Everything' in late nineteenth century China, and it is a curious fact that this man, whose interests were so broad, and impact so great, should now be forgotten in his home country.
"Part of what this project is about is exploring this acute asymmetry between Chinese and British memories of the history of our mutual relations. We don't know enough – learn enough, or teach enough – about the history of this relationship, or even about China in general.
"Working with Jeremy Routledge and his team was exciting and challenging, and I have learnt a great deal from the perspectives he brought about how this story might best be told."
Jeremy Routledge, director, said: "Hart's personal and public life is a gift for film. The physical struggle of war is set against Hart's inner struggle between his Victorian Methodist conscience and the love of his life, Ayao, a Cantonese woman. The superb Hart Archives at Queen's University Belfast provide a unique first person narrative to his life and the photographic collections at the University Of Bristol and elsewhere, help to recapture late 19th century China. There is even the 'framing device' of the re-dedication of Hart's memorial at Bisham. What more could I need?
"Filming in Shanghai with a Chinese crew and fixers was a challenge but the young DOP and sound operator were so enthusiastic it was also a joy. I was especially fascinated when doing interviews with young Maritime Customs recruits about their attitudes to Hart. Their reactions spoke loudly about a subtle change in tone in attitudes to the West that seemed to resonate back to Hart and his diaries. I can't wait to go back.
"The trickiest thing about the project was working with historical academic research, chiefly in written form, and trying to create a story that could hopefully be enjoyed and appreciated by a non-specialist whilst retaining credibility. I really hope Robert and academic audiences think I've succeeded!"
Robert Bickers is Professor of History at the University Of Bristol. As well as directing the BICC, and the British Academy-funded 'Historical Photographs of China' project, he is the author, most recently, of The Scramble for China: Foreign Devils in the Qing Empire, and Getting Stuck in for Shanghai: Putting the Kibosh on the Kaiser from the Bund (both Penguin).
Jeremy Routledge is Development Producer and Director at Calling the Shots. After a drama degree, he worked as a freelance TV editor and gig promoter, then as director on pop promos, drama and TV documentaries. In 1998 he co-founded Calling The Shots, and developed the company's development slate, producing over 40 fiction and documentary films for community groups, charities, Channel 4, BBC3 and BBC4.
In 2003 he designed the innovative and long running national film challenge, Mini Masterpieces, and one of the first ever community-linked media sharing websites, Streaming Stories. In 2012 a successful bid to the AHRC REACT programme resulted in the Future Cemetery, with the vision of a centre for interpretation, education and research into end of life issues. In 2012 he also graduated from the NFTS Film and Television School with a PGD in Script Development. He is an associate lecturer with the University of the West of England and the University of Bristol.