View all news
Anglesey art project in full flight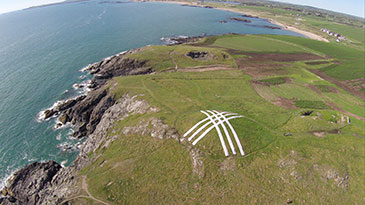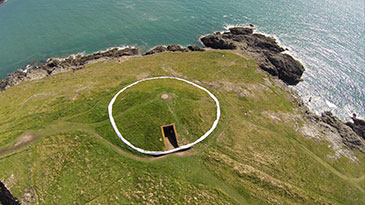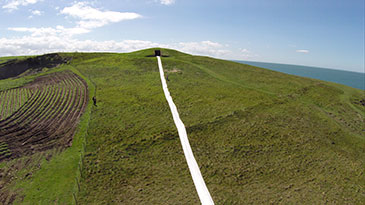 Press release issued: 16 June 2014
An art project centred round Barclodiad y Gawres, a Neolithic passage grave in Ynys Môn (Anglesey), North Wales recently took to the skies as part of its drive to create a portfolio of contemporary work focused on the various 'scapes' that form the backdrop to the monument
The Barclodiad y Gawres project, part of a European GESTART (Artistic Gestures revisiting European Artistic Diversity and Convergence) project recently awarded a €395,000 grant, is led by Dr George Nash of the University of Bristol and the Welsh Rock Art Organisation (WRAO).
Installationist Professor Dragos Gheorghiu from the National University of Arts, Bucharest was invited to participate in the project using his land-art approach to looking at landscape.
His work artistically placed Barclodiad y Gawres into a number of meaningful scenarios bringing together a macro perspective that involved delineation (of the monument), procession (the aspect viewed from the entrance of the monument towards Holy Island) and replication (of some of the engraved geometric art on upright stones contained within the chamber).
With assistance from artist Bill Swan and surveyor/pilot Andy Beadsley, a drone was used to film and photograph the event, with spectacular results.
Professor Gheorghiu, who has undertaken similar installation scenarios elsewhere in Europe, said: "The sensory evidence for this and other monuments is lost forever and we cannot get into the mindset of our prehistoric ancestors; however, we can make some bold assumptions. Like us, they were fixated by art and symmetry. My work makes an attempt to understand the relationship between monument and landscape. I look on the scape in two ways: macro and micro statements thus bringing the art outside the monument, making it public and accessible."
The Barclodiad y Gawres project has also awarded artistic commissions to silversmith Carol James, landscape artist Ian Mitchell, glassmaker Bill Swann and musicologists Ian Duggan and John Nash.
As part of an ongoing programme of work, the scientific element of the team are currently engaged in tracing six highly decorative stones that stand within the chamber. Working alongside the tracing element is Andy Beardsley of Terra Measurement who will The project began in September 2013 and is expected to be completed by June 2015, culminating in an exhibition that will start at the Oriel Ynys Môn Museum in Llangefni and travel to selected venues in Italy, Portugal and Spain. The land-art element undertaken recently will be reported in a forthcoming book which will accompany the exhibition.
The next part of the project will engage school children from nearby Ysgol Rhosneigr Pennaeth. The tracing regime continues, along with a 3D laser scanning exercise planned for the late summer.